The £5 million contract, with US-owned firm Palladium, has tasked the firm with delivering a "six-month crisis support programme" in relation to the management of people fleeing the war in Ukraine, according to documents lodged with Public Contracts Scotland.
Contract duties include the potential creation of a "national humanitarian arrivals centre" in Scotland and deploying "contingency accommodation" that adheres with guidelines for refugee camps created by the United Nations refugee arm UNHCR.
The Scotsman recently revealed the Government is preparing for a "worst-case scenario" of the arrival of up to 18,000 more Ukrainians who were granted visas under the Scottish super sponsor scheme before it was suspended in July. Among other options being considered to house the refugees if they should all arrive in Scotland is the creation of mass refugee centres, which would see people sleeping in large halls as a temporary measure while more permanent accommodation is found.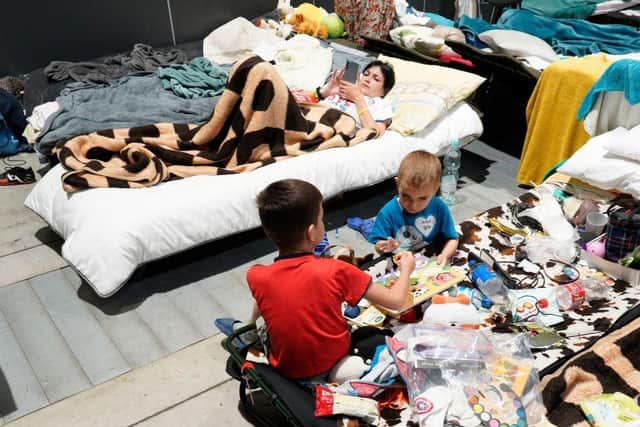 Refugees minister Neil Gray did not deny the Government was considering the possible creation of this type of accommodation, but said it hoped to avoid having to use mass centres. It has recently chartered two cruise ships – one which is operational in Edinburgh and one yet to be opened in Glasgow.
Palladium will create the "detailed options response plan" it has been tasked with by the Government as part of a review heralded by Mr Gray to tackle the situation, which will be published in coming weeks.
The document lodged with Public Contracts Scotland states: "The outline scope of the contract includes: Consider an operational team with suitable capability and capacity to run, if required, a national humanitarian arrivals centre, and co-ordinate and plan the onward destination of Ukrainians entering the country."
It adds: "Deliver rapid deployment of any agreed contingency accommodation and support services on a planned site-by-site basis, that adheres to UNHCR requirements and to any further standard agreed with Scottish Government."
The contract also requires Palladium to provide "suitably skilled and experienced staff" to assist the Government and council umbrella body Cosla in delivery of the super sponsor scheme.
Last month, the city government of Moldovan capital, Chisinau, also announced it had hired Palladium's services to help it better serve the needs of Ukrainian refugees. The firm has also been contracted by the UK Government's Foreign, Commonwealth & Development Office.
A Scottish Government spokesperson said: "The Scottish Government has recently contracted the Palladium Group – an organisation with specialist experience in humanitarian support interventions, planning and logistics – to provide broad support to enhance both our delivery and the experience of displaced Ukrainians.
"The Scottish Government continues to explore all options to ensure that there is sufficient and safe accommodation for any displaced people from Ukraine arriving in Scotland. This includes contingency plans for emergency accommodation as well as increasing temporary accommodation, by, for example, getting the second ship, which has now docked in Glasgow, prepared to safely host displaced people from Ukraine. We have no current plans to commission Palladium to establish a national arrivals centre."