Mr Zelensky's deputy head of office, Kyrylo Tymoshenko, has left his role amid a series of personnel changes as the president vowed that there would be "no return to what used to be in the past".
He is the second high profile figure to leave office in recent days. Vasyl Lozynsky, a deputy minister in the office was reportedly fired after Ukraine's top anti-corruption agency and the anti-corruption prosecutor's office "exposed and stopped the activities of an organised criminal group involved in the embezzlement of budget funds." The agency, the National Anti-Corruption Bureau of Ukraine, said that Mr Lozynsky had been detained while getting a £320,000 bribe for helping with equipment and machinery purchasing contracts.
Ukraine – alongside many former Communist countries - has a history of corruption and in 2021 Transparency International ranked the country at 122 out of 180 countries in its ranking of corrupt states.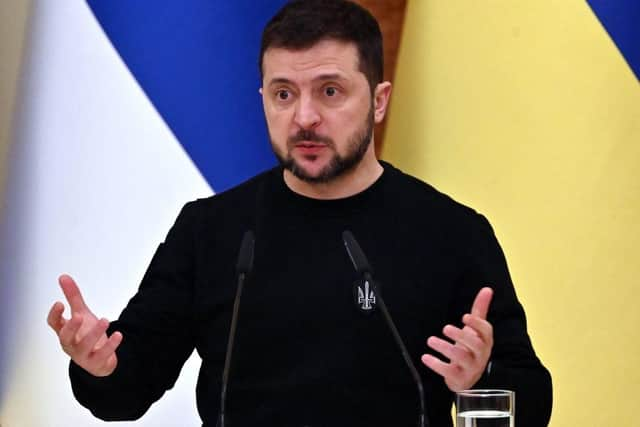 Corruption in the country is one of the major barriers blocking its entry to the European Union. Mr Zelensky was elected in 2019 on the promise of wide-reaching reforms to battle corruption and improve the economy.
In an address on Sunday night, he said: "There are already personnel decisions — some today, some tomorrow — regarding officials of various levels in ministries and other central government structures, as well as in the regions and in the law enforcement system."
He added there would be "no return to what used to be in the past, to the way various people close to state institutions" used to live.
Reports have claimed that the department of defence minister Oleksii Reznikov had signed a contract to procure food for the armed forces at inflated prices, although Mr Reznikov has insisted the prices were a "technical mistake".
David Arakhamia, the head of Mr Zelensky's Servant of the People party, has insisted that corrupt officials could face jail time.
"Officials at all levels have been constantly warned through official and unofficial channels: focus on the war, help the victims, reduce bureaucracy and stop doing dubious business. Many of them have actually listened, but some, unfortunately, did not," he said in a post on Telegram.
"If it doesn't work in a civilised way, it will be done according to the laws of wartime. This applies both to recent purchases of generators and to fresh scandals in the ministry of defence."
In December 2020, the Ukrainian parliament restored anti-corruption legislation shut down by a court decision two months earlier, when it deemed that a requirement for officials to submit electronic income declarations was unconstitutional.
The court, with the backing of around 50 pro-Russian members, also struck down a provision that made it a punishable criminal offence for officials to provide false income information, arguing it was too severe.
At the time, President Zelensky said the annulment was a "threat to national security".
Following his election three years ago, Mr Zelensky fired a number of officlas, including former prime minister, Oleksiy Honcharuk, Ukrainian prosecutor general, Ruslan Riaboshapka – both of whom were well regarded in the West – as well as several of his ministers.