The World Happiness Report found global life satisfaction averages in the Covid-19 years of 2020 to 2022 were just as high as those in the pre-pandemic years. Finland's top ranking spot is followed by Denmark, Iceland and Israel. Lithuania is the only new country in the top 20, up more than 30 places since 2017.
The UK is ranked in 19th place, behind Czechia, Belgium and Germany.
Meanwhile, war-torn Afghanistan and Lebanon remain the two unhappiest countries in the survey, with average life evaluations more than five points lower on a scale running from zero to ten than in the ten happiest countries.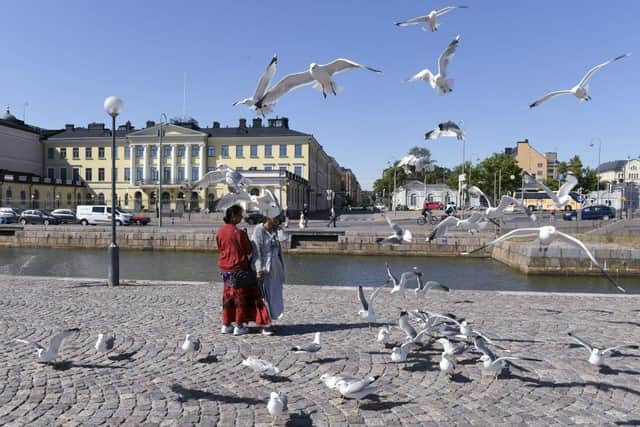 Taliban-controlled Afghanistan is facing a humanitarian crisis, with many people on the brink of a famine.
Co-author John Helliwell said: "Average happiness and our country rankings, for emotions as well as life evaluations, have been remarkably stable during the three Covid-19 years. Changes in rankings that have taken place have been continuations of longer-term trends, such as the increases seen in the rankings of the three Baltic countries. Even during these difficult years, positive emotions have remained twice as prevalent as negative ones, and feelings of positive social support twice as strong as those of loneliness."
The report, which has been running since 2012 and is written by an independent group of experts and academics, considers six key factors to help explain variation in self-reported levels of happiness across the world – social support, income, health, freedom, generosity, and absence of corruption.
The report said: "Income, health, having someone to count on, having a sense of freedom to make key life decisions, generosity, and the absence of corruption all play strong roles in supporting life evaluations."
For the second year running, the report found different forms of everyday kindness, such as helping a stranger, donating to charity and volunteering, are above pre-pandemic levels. It said data for 2022 showed "pro-social acts" remain about one-quarter more common than before the pandemic.
The report examined how happiness is distributed, in many cases unequally, among people. It found the happiness gap between the top and the bottom halves of the population is small in countries where almost everyone is very unhappy, and in the top countries where almost no one is unhappy. More generally, it found people are happier living in countries where the happiness gap is smaller.
This year's report also takes a closer look at the available survey data from Ukraine.
"The devastating impact of the war is evident to all, and so we also find that well-being in Ukraine has taken a real hit", said co-author Jan-Emmanuel De Neve. "But what is surprising, however, is that well-being in Ukraine fell by less than it did in 2014 when Russia annexed Crimea, and this is thanks in part to the extraordinary rise in fellow feeling across Ukraine as picked up in data on helping strangers and donations – the Russian invasion has forged Ukraine into a nation."