Wildfires Greece: Why are airlines still flying from Scotland to Greek islands such as Rhodes and Corfu amid wildfires?
While most package operators have cancelled holidays, some airlines are still flying
So why are some airlines still flying to affected areas and what are customers' rights if they are booked on a route that is still in operation?
Which airlines and package operators are still flying to Rhodes?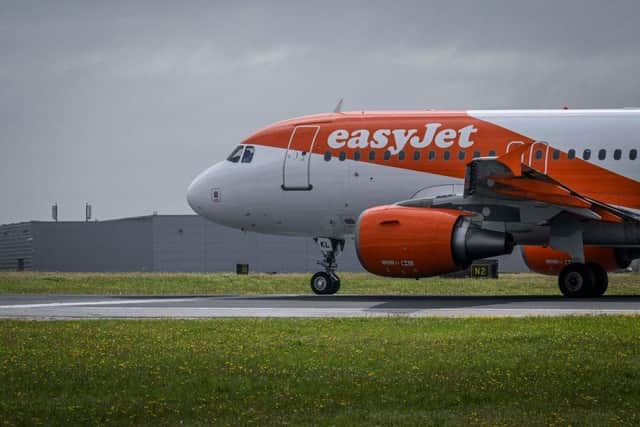 Most package operators have cancelled scheduled flights to Rhodes. Tui and Jet2 said on Sunday they would cancel all booked holidays until Wednesday, while easyJet's package holiday arm – although not its flight-only business – has done the same.
Some airlines – Ryanair, EasyJet and British Airways (BA) – are still operating direct flights to the island from the UK. The 2.40pm EasyJet flight from Edinburgh to Rhodes on Monday was set to leave on schedule, according to the airport's departures board.
Jet2 said it would be "contacting affected customers with regards to their refund and rebooking options", while Tui customers booked to fly out on Wednesday have been given the opportunity to rebook or cancel free of charge.
EasyJet is also putting on extra repatriation flights to bring holidaymakers who do not want to stay on the island back to the UK on Monday and Tuesday – and has asked tourists who want to cut their holiday short to contact its customer services line.
The flight operator said: "We know the situation for many currently in Rhodes is very difficult. The safety and wellbeing of our customers is our highest priority and we are doing all we can to assist customers in affected areas."
"We will be operating two repatriation flights [on Monday] from Rhodes to Gatwick in addition to our scheduled flights. We will also operate a further repatriation flight on Tuesday."
What if I am booked to travel to Rhodes on a flight-only basis, but I do not want to travel?
Customers are advised to check with their airline directly, but some have said customers who do not want to travel will be able to rebook or get a refund – which may be in the form of vouchers. However, not all airlines are offering any kind of flexibility.
EasyJet has said customers who do not want to travel to Rhodes in the circumstances can be compensated with vouchers to the value of their flight, or can reschedule.
The firm said: "If you are booked to travel to or from Rhodes before the 29th of July, our flights are still operating. However, if you would like to change your plans, then you will be able to transfer your flight to another date or can request a flight voucher for the value of your unused flights, by calling easyJet Customer Services."
BA customers who are in Rhodes on a flight-only booking can change their flight to come back earlier than planned, free of charge, while anyone flying to Rhodes with BA over the next week can change their flight to a later date, also free of charge.
Ryanair said flights were operating normally – and has not yet given customers any option of rebooking or a refund.
"Ryanair flights to/from Rhodes and Corfu are currently operating as normal and unaffected by the forest fires," it said on its website.
Travel agent industry body ABTA said: "Anyone due to travel imminently to the areas affected should wait to hear from their travel company, and monitor the information being communicated by their travel company about the wildfires.
"There have been some cancellations by some companies for trips with immediate departures. Customers' rights in these circumstances will vary depending on if they have booked a package holiday or if they have booked the elements of their trip independently."
It added: "If your holiday has been cancelled, ABTA members will discuss your options with you, which could be the offer of an alternative holiday or a refund for the cost of the package holiday.
"If you booked your holiday arrangements separately and your flight has been cancelled, you should be entitled to a refund for your flight. You will then need to look at the terms of the conditions for your other bookings such as accommodation and transport. You may also want to look at your travel insurance policy."
I am in Rhodes, but do not have access to my passport as it is in my luggage – how can I travel home?
Some holidaymakers had to leave their luggage behind when evacuating from a hotel in an area affected by wildfires, meaning some have become separated from their travel documents.
The UK Embassy in Greece has set up a help desk at Rhodes International Airport to facilitate "the timely departure of visitors who have lost their travel documents".
Why have all flights not been cancelled?
The Greek authorities are still encouraging people to travel to Rhodes and Corfu, saying only relatively small areas are affected.
The UK Government's Foreign, Commonwealth and Development Office (FCDO) has not issued a warning, recommending people do not travel to the area, meaning most travel insurance will not cover cancellations if a passenger chooses not to travel.
The situation is not unlike that experienced in the weeks preceding the official announcement of the Covid pandemic in 2020, when airlines continued flying to holiday destinations, despite fears the virus could be spreading and stories of hotel lockdowns – and holidaymakers who did not want to leave home were not entitled to compensation if they did not travel.
Comments
 0 comments
Want to join the conversation? Please or to comment on this article.