At first glance you would believe Laura Gilmore Anderson is living the dream – not long married to her Prince Charming, setting out on a lifetime of adventures together with big plans for children, pets, a happy family.
But look a bit deeper into those bright eyes and you might glimpse the nightmare of her reality. She is literally fighting for her life.
"I'm absolutely terrified that I'm running out of time," she said. "How is that possible?"
Laura, now aged 35, has been diagnosed with a rare and incurable neuroendocrine pancreatic cancer, which has spread to her stomach, liver and lymph nodes.
She had first began suffering stomach cramps in 2017 and made countless trips to the GP.
Doctors initially put the pain down to a food intolerance, then irritable bowel syndrome and later endometriosis. The devastating news came in 2020 after she underwent tests to investigate why she was failing to get pregnant. Not long after, she was advised she likely had only three months left to live.
The couple, who live in Penicuik in Midlothian, were shattered, getting through with help from their extended family, huge circle of friends and new pup Chip.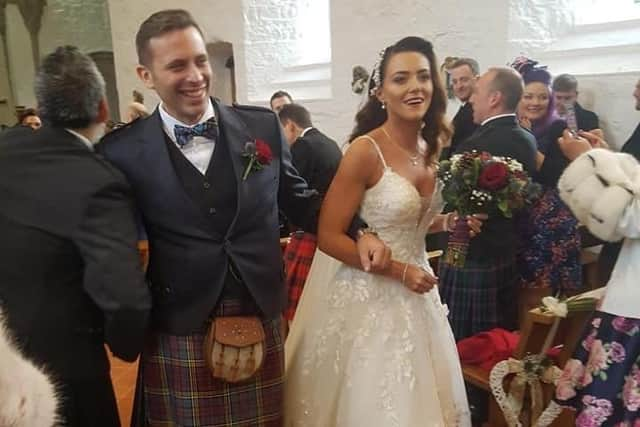 Her condition deteriorated again when her bone marrow reacted so badly to chemotherapy that treatment had to be halted. But she would probably not have survived to now without experimental therapy overseas, funded by the good will of loved ones and strangers.
So far Laura has been defying the odds, even becoming an ambassador for the charity Neuroendocrine Cancer UK – helping to support sufferers and raise awareness of the disease, also known as NET, which is a silent and deadly spreader that is often found too late in patients of all ages.
She has entirely changed her diet, giving up meat and alcohol, and has been following a rigorous health and fitness regime. She has also been writing a blog, documenting with heartfelt honesty the challenges she has faced while fighting the deadly disease.
But recently came the news the couple had been dreading. Laura's health has taken a turn for the worse in recent months and her cancer has been growing.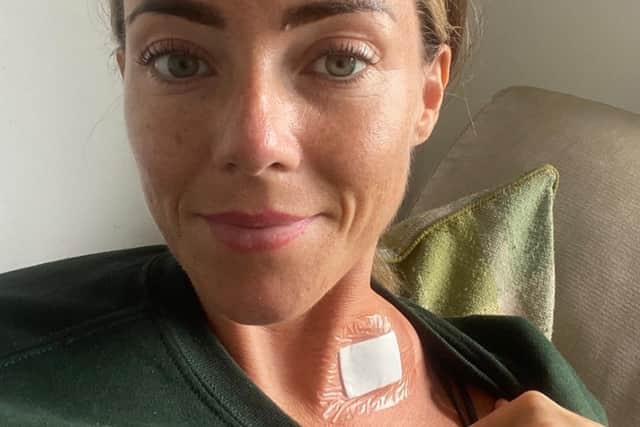 Having exhausted all available conventional medicine, she is staking all her hopes on an immunotherapy regime offered by the William's Cancer Institute in Mexico.
With the support of family and friends, she has set about raising funds via an online GoFundMe appeal.
It has been recommended she should undergo three courses of treatment if she is able to attend the clinic, which it is hoped can happen by April.
"I feel desperate at this stage – I'm too young to die," Laura said. "I want time with my husband. Our life is only beginning. We planned kids, a house. Now Paul cares for me. I feel embarrassed that I'm a useless wife. I feel like I'm failing him.
"I try to visualise what our life could be – it makes me smile. I see little Laura and Paul and more dogs running around our house."
She says she hates how her body has changed with all the medication, but Paul tries to make her feel beautiful.
"It has been such a tough few years, but he just keeps going," she said. "He takes care of me.
"It can't be very luxurious or romantic with making me hotwater bottles, making sure I eat, doing my injections, seeing all my flaws, but he does it all with a smile, even if I'm grumpy."
Unable to get out of bed for a planned date on Valentine's Day, Laura posted an emotional message to Paul, demonstrating the depth of her gratitude for his devotion.
"Thank you for showing me what real love is," she said. "I'm forever grateful to you for being by my side, holding my hand, making me laugh and just for being you. Our love is stronger than ever."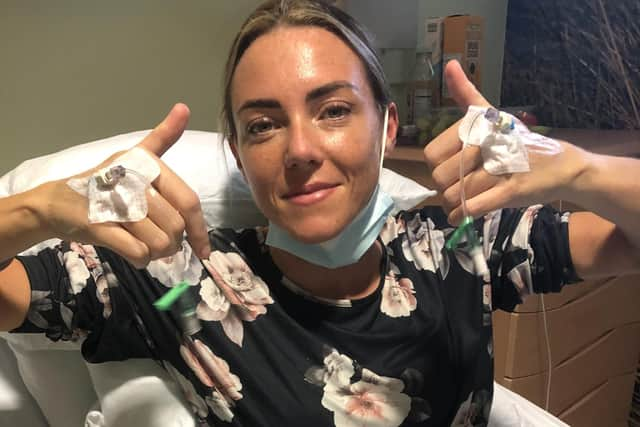 She added: "Hopefully we get a date night soon. You make me feel so loved and special. I want more adventures and memories together. I want to grow old with you.
"Please let me grow old with you. Being deeply loved by someone gives you strength, while loving someone deeply gives you courage."
The latest appeal aims to raise £140,000, and Laura constantly struggles with asking the public to donate such a vast sum for her – even for the chance of life.
But the new treatment has had great results in some patients with a similar diagnosis, so she feels compelled to chase what could be her only hope of a future.
With help from Paul and some friends, she has organised a major fancy-dress fundraising event to help boost the fund.
"The countdown is on," Laura said. "So I appreciate the support so much. Without it, I don't know where I'd be."
The fundraiser, which will have a superhero theme, is to be held on March 31 at the Hub on Edinburgh's Castlehill. The £50 admission includes food, live bands and dancing, and the event will feature a live raffle with a range of prizes donated by sponsors.
Among them are tickets to see Beyonce on the Edinburgh leg of her world tour; tickets for The Who gig at Edinburgh Castle; Terminal V festival tickets; stays in some of Scotland's finest hotels; and breaks in Yorkshire and in Italy.
Also up for grabs, in an online raffle for those unable to make it on the night, are a £2,500 AV package for a wedding or other party, with PA system, lighting and a technician; a £950 StreamFit UK online callanetics membership; and a round of golf for three players with sponsor Chris Montgomery at West Links in North Berwick, worth £600.