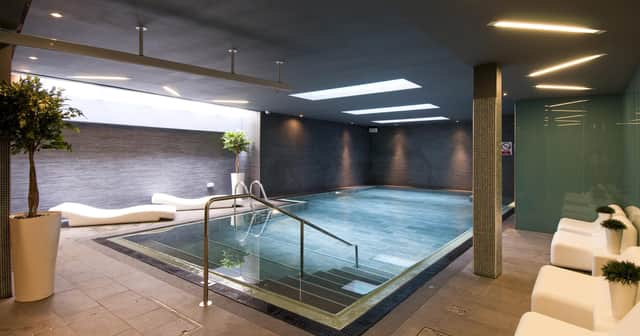 Edinburgh isn't exactly packed with day spas.
There are plenty of excellent places to get treatments, but only a handful of venues, including One Spa and The Balmoral Spa (currently closed), where you can linger for longer than an hour or so.
However, Yu Spa at the Apex Hotel on Waterloo Place is one of the few on that list.
In contrast to the other venues, where the prices might make your eyelid twitch, this place offers some decent deals.
These include their newly relaunched Twilight Package, which has zero to do with Robert Pattinson, and is available daily from 3pm, for £89pp Monday to Thursday or £99pp Friday to Sunday, until the end of April.
It includes use of the facilities for up to two hours, a 55-minute Elemis treatment, which incorporates a back massage, facial and scalp massage, and they'll even chuck in a two course dinner with a glass of house vino.
I suppose a trip here might make the ideal Mother's Day gift, but I took my husband. He may act cool but he's definitely not averse to a pampering session.
We checked in at 3pm, and were taken straight through for our treatments. These took place in their couple's room, so we could race each other onto the therapy tables. I won, naturally, since he is naturally more cumbersome.
The excellent Rachael did my back massage, using Elemis oils and some of their Instant Refreshing Gel. My tension unfurled, and, alongside me, my knotty beau was also being ironed out by spa manager, Claire.
Once you've turned over, the therapy segues into a facial, and I had an oily deep cleanse before the Elemis Pineapple Enzyme Peel was deployed. While this fruity potion sloughed off the top layer of skin cells, there was a scalp massage using their Frangipani Monoi Body Oil. After the peel is flanneled off, there was more lifting massage, and smoothing of my furrowed brow.
We were both gutted when the treatment wound up, and consoled ourselves with apple juice in the Relaxation Lounge. However, it wasn't over yet, since we had a couple of hours use of the spa scheduled in. They've got a neat offering here, with a small sauna, steam room and swimming pool.
I did five lengths, which seemed enough to rekindle my appetite, so we had an early bird dinner and were first into Elliott's Bar & Kitchen on the ground floor, where there's an atmospheric view of the entrance to Old Calton Burial Ground.
Since Claire, aka, the best masseur ever, according to my husband, had recommended the haggis bonbons, he opted for those, followed by a monolithic portion of fish and chips with mushy peas and tartare sauce. I went for a starter of tempura prawns with sriracha mayo, before inhaling a main course of chicken, chorizo, pan-fried baby potatoes and red wine sauce.
Healthy options are available, but a few hour's worth of relaxation doesn't half make you hungry.