It was a full circle moment for Harrison Ford and Ke Huy Quan who celebrated together on stage at the Oscars, 39 years since a 12-year-old Quan starred alongside the veteran actor in Indiana Jones: Temple of Doom.
Quan's first film saw him play Short Round, a karate expert in what became a career-defining franchise for Ford, now 80, who played the titular character in 1984.
Social media users were quick to spot the special moment with many calling it their favourite moment of the Oscars, and others sharing mass up clips of the two moments as Everything Everywhere All At Once triumphed at the 95th Oscars, taking home seven awards.
In his acceptance speech, Quan thanked his 84-year-old mother and mentioned starting his journey "on a boat" and spending a year in a refugee camp.
Visibly emotional in his speech, the actor said "My mom is 88 years old and watching from home – Ma, I just won an Oscar"
He added: "My journey started on a boat. I spent a year in a refuge camp. And somehow, I ended up here on Hollywood's biggest stage.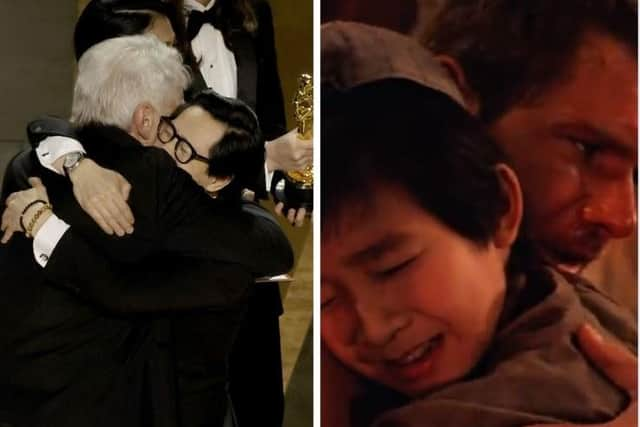 "They say stories like this only happen the movies. I cannot believe it's happening to me. This — this is the American dream!"
At aged 12, the Vietnamese-American actor met Diana, Princess of Wales at Indiana Jones: Temple of Doom's premiere in Leicester Square, London, in 1984.