British households add an extra £514 million to their annual energy bills by leaving items on standby
A study by Utilita has found that British households add £514 million a year to energy bills and carbon emissions by leaving electric items on standby
British households are adding a total of £514 million extra to their energy bills each year by leaving their electronic devices plugged in and on standby. A new study including 2,000 UK adults found that 86 percent of households are guilty of leaving an average of eight items on standby at any one time.
The biggest offenders among household devices are TVs, microwaves and washing machines. This is costing an extra £20 a year, which adds up to £513,766,000 across all UK households, which equates to more carbon emissions than two million return flights from London to Spain.
Worryingly, the study shows four in 10 have no idea that electrical items continue to use electricity from mains even if it's turned off if the wall socket is still turned on. The typical coffee maker costs £5.60 a year while waiting to be used and a washing machine can cost households £2.60 a year if left on between washes.
According to Smart PAYG energy experts Utilita, gaming consoles are one of the biggest energy consumers with 13 percent of households saying they leave their consoles on. In fact, one of the newest gaming consoles on the market costs a shocking £38 a year if left in 'sleep mode' which enables users to voice activate it.
According to those polled via OnePoll, the biggest barrier to switching items off at the mains is poor access to the plugs. 29 percent said they would leave their mains on, or on standby, if they can't reach the plugs easily - with almost a third admitting to leaving items on standby without using them for longer than a year.
Archie Lasseter, head of sustainability at Utilita Energy, which commissioned the research, said: "Even if an item doesn't appear to be on, if it is plugged in and the socket is switched on, it could still be using energy. We call this vampire energy - silently sucking out power without households noticing.
"In recent years millions of households have switched their oven for an airfryer, but those who still have their oven switched on at the wall will spend £2.77 a year to the detriment of the pocket and the planet. A simple flick of the switch immediately stops this from happening."
Ovens and dishwashers complete the top five most energy consuming items households admit to leave plugged in or on standby. By turning these items off at the wall, households could save around £20 a year off their energy bills.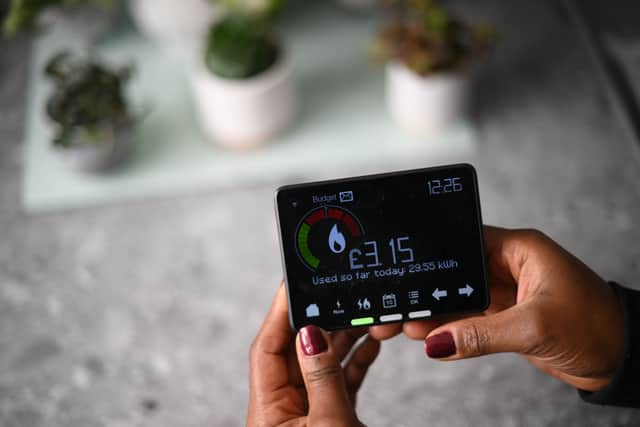 Users also admitted to leaving phone chargers, smart speakers and baby monitors on. And while half of mobile users say they charge their phone all night, despite it only taking a few hours to fully recharge their device.
Commenting on where the charging costs apply, Utilita's Archie Lasseter said: "Naturally, we charge our phones while we recharge our bodies during sleep, which is why most mobile phone manufacturers have introduced technology that stops the phone drawing any more energy once it is fully charged. However, phone chargers left switched on at the wall will still cost households £1.38 a year, per charger, in vampire energy."
Looking at household behaviours, the study shows that 61 percent of people are well aware of items using vampire energy, but a fifth say the costs aren't high enough to warrant the effort of switching it off at the wall. 79 percent of those impacted by the financial downturn say they have made a conscious effort to try to use less electricity.
Advising households on ways to save energy around the home, Archie Lasseter added: "Devices such as a remote controlled smart plug costs less than a tenner and will give households with poor access to their plugs an immediate saving. It's this type of low-cost technology that can pay for itself ten times over during its lifetime."
The average Brit's energy use:
TV (x2) - £2.40 (annual standby/vampire energy use cost) - 1.94 (kgCO₂e) - 7.47 (kWh)
Phone charger (x2) - £2.40 (annual standby/vampire energy use cost) - 1.11 (kgCO₂e) - 4.3 (kWh)
Coffee machine (x1) - £5.62 (annual standby/vampire energy use cost) - 4.54 (kgCO₂e) - 17.5 (kWh)
Microwave (x1) - £1.12 (annual standby/vampire energy use cost) - 0.9 (kgCO₂e) - 3.48 (kWh)
Laptop (x1) - £2.69 (annual standby/vampire energy use cost) - 2.17 (kgCO₂e) - 8.38 (kWh)
Washing machine (x1) - £2.59 (annual standby/vampire energy use cost) - 2.09 (kgCO₂e) - 8.06 (kWh)
Electric cooker (x1) - £2.77 (annual standby/vampire energy use cost) - 2.24 (kgCO₂e) - 8.63 (kWh)
Dishwasher (x1) - £1.28 (annual standby/vampire energy use cost) - 1.03 (kgCO₂e) - 3.97 (kWh)
Toaster (x1) - £1.39 (annual standby/vampire energy use cost) - 1.12 (kgCO₂e) - 4.32 (kWh)
Comments
 0 comments
Want to join the conversation? Please or to comment on this article.