The UK Foreign Office has issued travel advice to people flying to Greece, after a high speed head-on collision between two trains in central Greece killed dozens of people and injured scores of others, including children.
The collision took place in the early hours of Wednesday (March 1) near Vale of Tempe, a gorge separating the regions of Thessaly and Macedonia, near Larissa, about 230 north of Athens. Authorities have reported 36 people were found dead and a further 66 people are in hospital, including six in intensive care.
The Times reported at least four carriages caught fire, as live television footage broadcast by state and othermedia showed smoke billowing from several train cars that derailed metres from a tunnel.
About 150 firefighters were sent to the scene to recover passengers from the train, which was headed towards the northern Greek port city of Thessaloniki. Hellenic Train, the rail operator, said at least 350 people had been on board when the train crashed.
Now, the UK Foreign Office has advised people travelling from the UK to check the 'Entry requirement's' section for Greece's current entry restrictions and requirements as these may change with little warning.
It said: "We are closely monitoring reports of a collision involving two trains near the city of Larissa, in the early hours on 1 March. If you are in the area please follow the advice of local authorities. The Greek government has established emergency hotlines for those requiring assistance; 00 30 2410683175 and 00 30 2410683176."
The Greek authorities are working to free trapped people, a rescue operation which they said is taking place in "difficult conditions" due to the severity of the collision. A spokesman for the fire service said: "The majority of passengers have been taken to safety."
Costas Agorastos, the regional governor of the Thessaly area, told Skai television: "Carriage one and two no longer exist and the third has derailed. I've never seen anything like this in my life. It's tragic."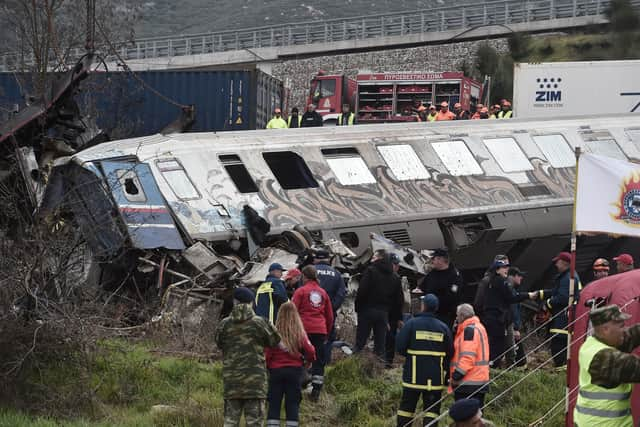 Passengers described the train as being two thirds full with many young people on board. Officials said many of the passengers on board the train had been university students returning home after celebrating Carnival over the long weekend to mark Greek Orthodox Lent.
The cause of the crash remains unknown. Agorastos told Skai the trains had been running on the same line. Two rail officials were being questioned by police but had not been detained.
However, Reuters reported the local station master, in charge of signalling, has been arrested, a police official said, as investigators tried to find out why the two trains had been on the same track.
It is reported the crash was near the site of a rail disaster 50 years ago. In 1972, 19 people died when two trains collided head-on outside Larissa.