Across 70 seconds he provided an insightful and detailed tactical breakdown of the match, explaining his surprise at the Steelmen's system and what the Dons did to combat it. It wasn't a one-off. Robson's post-match press conferences are often quite different to many of his peers, featuring talk of transitions and counter-pressing, playing through the lines of the opposition and the structural distances between the lines of his own side. It is easy to picture Robson flicking through the pages of Inverting the Pyramid before bed every night, or devouring the latest from football tactics writer Michael Cox, perhaps saying good night to a Marcelo Bielsa poster before turning off the light.
His tactical talk may not be for everyone's taste. But there will be plenty, this writer included, who find it captivating. A manager who gives you an understanding of how situations unfolded on the pitch and why. It was the same after the win over Livingston when he spoke of the difficulty of the team finding their rhythm and then again on Saturday following the 3-0 success over Hearts.
The Dons style
"The speed at which we played at, the transitions, the quick passing, going through teams quickly, acceleration of the front players, the tempo, the counter-pressing, it was all there for 45 minutes," he said. "It is not easy to keep that going for 90 minutes. Don't forget, that is a good Hearts team, they are a good side, they've got good management, good staff. It was always going to be a difficult game but the boys in the first half really looked exciting, quick, fast and it is not easy to keep playing at that level.
"The second half, we spoke about it at half-time, made a few tactical changes, about managing the game and they did that well and still looked good on transitions and looked like we could score a goal. So I was happy with the performance. The boys did really well and proud of them for that."
Robson transformation
For nine minutes he held court and cut an impressive figure. It has now been decided he will remain in charge until the end of the season. It was an easy decision for Aberdeen chairman Dave Cormack, chief executive Alan Burrows and the board to make. It was "unanimously agreed" to do so. Robson, and his highly-rated assistant boss Steve Agnew, now have a a prolonged interview period until the end of the season to try to steer the Dons to third and make his case to become the permanent boss.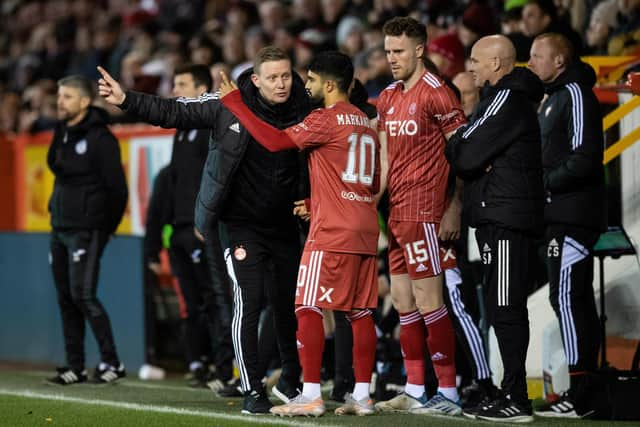 Since replacing Jim Goodwin, the 44-year-old has transformed Aberdeen considering the state they were in after losing to sixth tier Darvel and 11-0 on aggregate over two trips to Edinburgh. Now third is once again a realistic aim. Robson has a clear identity in mind for the team, the players adore him and his training even if it is hard and intense, as confirmed by defender Mattie Pollock. You can see that hard work paying off on the pitch. An easy way to measure progress, albeit over a small sample size, is goals scored and conceded per game in the league. Under Robson, the former has gone up and the latter has gone down.
Getting fans excited
"The way we want to play, the way an Aberdeen fan wants to see their team, it is fast and quick, up and at you, playing through the lines," Robson said. "It is not easy to get that every week. It is a really hard way to play. You've got to be skilled at it, you've got to be physically ready for it. You've got to be able to play the right passes at the right times. It is not easy. They did it perfectly in the first half [against Hearts]. We've seen signs of it since coming in a few weeks ago. We've had some good performances and scored some really good goals.
"When you want to play fast and want to play through teams and want to be aggressive on the counter press, all of a sudden when you lose the ball you are in better places to win the ball back again. Right away you become a harder team to beat, your structure is closer, your team is closer, everything is closer, there are no distances to play through you. It's not easy to do, it is difficult but I think the players have adapted quite well to it. We look dangerous. I think our possession stats have come down but our chances have flown through the roof. To get fans excited is enjoyable. It's not easy to coach because you need to punch the ball through lines, play off the back of teams, it's difficult but when you get it right it's quick, aggressive, fast and it's exciting."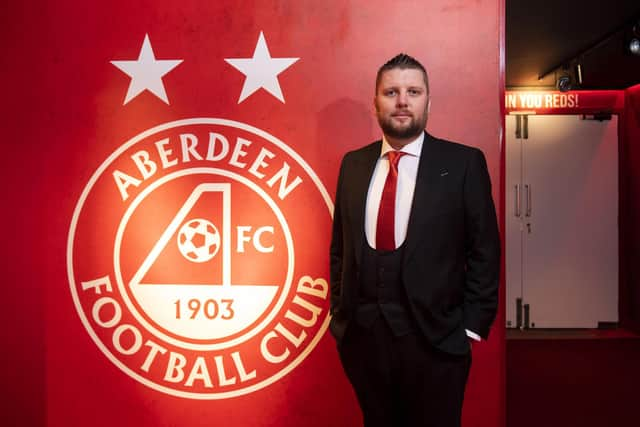 So many of the team's players seem reinvigorated with the style of play, whether it is Ross McCrorie, Graeme Shinnie or Ylber Ramadani. But it is perhaps Duk, recently linked with two Serie A clubs, who personifies Aberdeen under Robson.
"The way we are playing suits him," he said. "It suits all the players in the middle of the pitch. Duk brought a lot of that [excitement]. Because he is a humble boy, he wants to work for his team, he wants to run and he looks dangerous. The way we want to play really suits him."