Presenting yourself in the best possible way is a mantra that has followed the 57-year-old to Scottish football and it is not just reserved for those under his care at Parkhead. He also expects the same of those who run our game. That is why – after the 2-0 victory over Kilmarnock in the Viaplay Cup semi-final on Saturday – he was quick to call out the Scottish FA over the state of the Hampden pitch.
Postecoglou has his own self-serving reasons for wanting a better surface at the national stadium. His team play a high-tempo passing game and a poor quality pitch only makes that more difficult. But he also believes in the importance of getting the basics right for the benefit of selling the Scottish game to outsiders. The fact that VAR also malfunctioned during the second semi-final between Rangers and Aberdeen capped an embarrassing weekend for the authorities.
"I don't want to be seen as sort of picking on things that we can do better, because we all have our own responsibilities, you know?" Postecoglou said ahead of Celtic's Premiership match against St Mirren on Wednesday. "I have a responsibility to this football club to make it the best it can possibly be, and to be a good manager. But I think that people understand that if we are going to improve as a league and improve in our status in world football – which moves forward pretty quickly – then these are the things we need to do.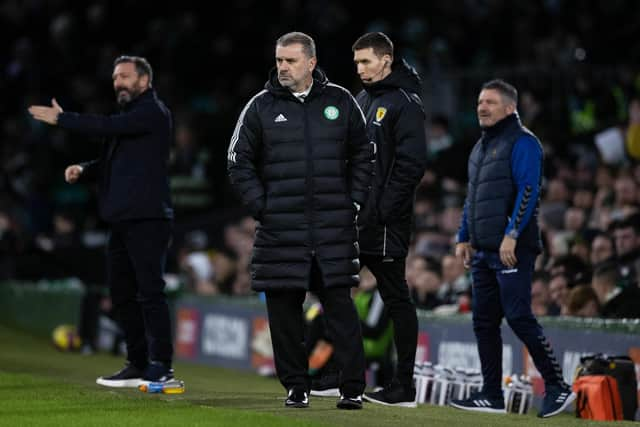 "We have to invest in them, because they are just as important as us trying to improve the playing standards. The infrastructure around it has to improve. I think you have seen that around the world, most countries now understand that it's a really important part of the overall picture and how you sell your game."
Postecoglou is well accustomed to moaning about pitches with the state of playing surfaces having been a major bugbear during his time Down Under. "Mate, in Australia I was known for complaining about pitches. I would do it on a consistent basis, because there we had to share pitches with different codes and stuff, and it used to do my head in because I thought it detracted from the growth of the game in Australia.
"It was a much bigger issue there than I think it is here. Most clubs I think are trying and are working hard on it. I've already said it, but credit to Motherwell when you see what they have done, they have invested in their pitch and they will get the rewards from that in the way that the game is presented at their ground. So, certainly for our showcase events, we want to try to put the best picture out there for people."
Postecoglou admitted that the Hampden pitch has left his players leg-weary ahead of the visit of the Buddies. "Yeah, it's fair to say that it took its toll on the weekend, so we've given the players a couple of lighter days. We'll see how everyone is, I've still to make the final decisions but there will be some changes for St Mirren."