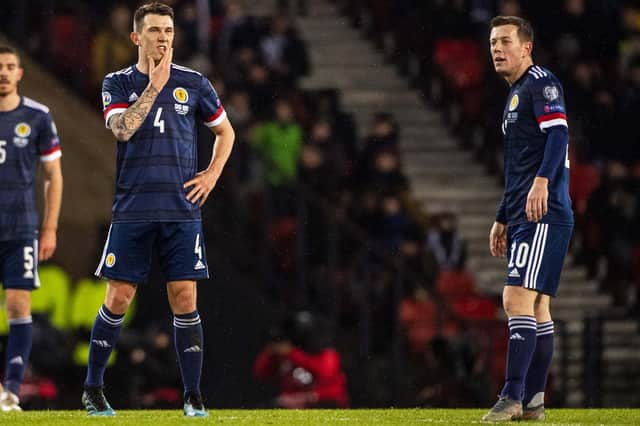 The 29-year-old will earn a 50th cap for his country when Steve Clarke's men embark on their quest for Euro 2024 by hosting Cyprus on Saturday in their Group A opener. A reward for the patience the midfielder required to show to earn his stripes for his country. "Like any young footballer you have to bide your time and wait your turn," said McGregor. "The group in front of me were all really good players and professionals and the manager trusted his squad. You just have to be there, train as hard as you can and force your way in at the right time. Yeah, sometimes you have to be patient but I was always desperate to get in. And once I got in I was desperate to stay there and rack up as many appearances as I could.
"[My 50th cap] will be a proud moment, of course. Every time you represent the national team is a proud day and to make my 50th appearance is something I'm really happy about. A lot of hard work, dedication and sacrifice has gone into that. So it will be a nice little milestone if I'm selected to play. [When it comes to best memories] my debut [in a friendly against the Netherlands at Pittodrie] was great, that stands out. The night in Serbia we qualified [for Euro 2020, to end the two-decade wait for reaching a major finals]. The goal against Croatia [in those finals, in 2021] is also a nice memory. There were some difficult times, some real learning experiences, but those are the things that make you a better footballer. It's nice to have some positive memories and getting to a major tournament was great."
When it comes to learning, the need to leave club rivalries behind in Scotland camps always feels as if it could be more pronounced for players of Celtic and Rangers. The imminent double-header comes ahead of the Glasgow clubs facing each other three times - most notably in their Scottish Cup semi-final on April 30 - in the next six weeks. And only a couple of weeks after McGregor was able to hold the League Cup aloft after their Ibrox adversaries were vanquished in the Viaplay Cup final. The Celtic captain can expect to find himself in intense scraps with Rangers' midfielder Ryan Jack in the domestic run-in, and there have been some feisty duels between the pair in the past. No ill-feeling carries over into the international domain, though.
"As you get older you start to realise [more about] these things," McGregor said of whether there is ever any awkwardness. Mataining they are "too busy", "resting, recovering and playing" even to joke about any club matters. "The reason we are playing at a high level is because we are highly competitive. He wants to win for his club and I am desperate to win for mine. But when we both turn up for Scotland we are both desperate for Scotland to do well. There are different rivalries throughout the camp but the minute we go through the door as Scotland players that is the only focus.
" I've played in there with a number of different partners and I have always tried to strike up a nice balance, whether that's with a two or a three, depending on what we need in any given game. But, yeah, it's great to see Ryan in there. Playing with Ryan has been good. We struck up a nice partnership and our games complemented each other. When the manager picks the team we just have to be ready. He will have an idea of a team, just building on what we have done recently. Our job is just to turn up, train as hard as we possibly can every day and if selected give the best account of yourself. Our job is pretty easy. The coach makes the decisions."