The Jeonbuk Hyundai Motors forward is the subject of at least three transfer bids with Celtic, Bundesliga side Mainz and MLS outfit Minnesota United all reported to have submitted offers.
It follows an impressive World Cup for the 24-year-old where he became the first South Korea international to score twice in a single match at the tournament following a double against Ghana.
Celtic are keen to land the forward during the current transfer window with reports of a £2.6million bid on the table as well a 50 per cent sell-on clause up to the value of £5.3million.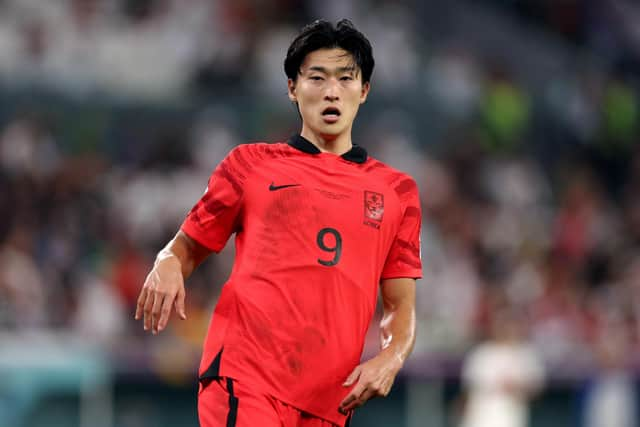 However, Gue-sung has revealed that no decision has yet been taken on whether he will depart Jeonbuk in January or remain with his current club until the summer window.
"First of all, I will always do my best in the given position. It hasn't been decided yet. I will do my best in the given position," he told Korean outlet Naver.
"There were many articles, so I read a lot. I haven't heard anything specific. I'm still worried about specific plans, whether it's better to go in January or transfer in the summer. I'm communicating with director Park Ji-sung and agents.
"All players will want to go out the same when such a good opportunity comes. If I don't go in the winter, the teams may not want me now in the summer, and the ransom may drop. I'm thinking about how best to do it.
"We are considering various aspects. If you go in the winter, all the players will be preparing. I'm resting and now I'm lifting my body up. You have to hit 100 per cent right away, but you have to see how competitive you are. As a player, you have to run the game. I wonder how competitive it will be. I think it's cool. I wonder how long they can wait.
"The transfer fee is also important to me. The transfer fee measures how much the club or team wants me. The higher I go, the more I think I have to work harder.
"Decisions must be made as soon as possible. You have to prepare for the season here and adapt to it when you go. If you stay here, you should prepare well for winter training. The sooner the better."
Gue-sung also stated his ultimate goal is to play in the English Premier League.
"I've been thinking about it for a long time. As a player, I think you set your final goal and go. Every player wants to go to the Premier League."