Hatate has been accused of diving after throwing himself to the ground under no contact following a challenge from Hearts midfielder Orestis Kiomourtzoglou during Celtic's 3-0 quarter-final win at Tynecastle on Saturday.
Match referee Kevin Clancy took no action against the Japenese midfielder at the time, with a free-kick awarded to Celtic after Kiomourtzoglou had fouled Kyogo Furuhashi seconds earlier.
Former whistler Steve Conroy has insisted Hatate should be facing a two-match ban – therefore missing the semi-final and a potential final – for attempting to con the match official. Simulation is only punishable by a yellow card but Conroy believes a message must be sent regarding diving.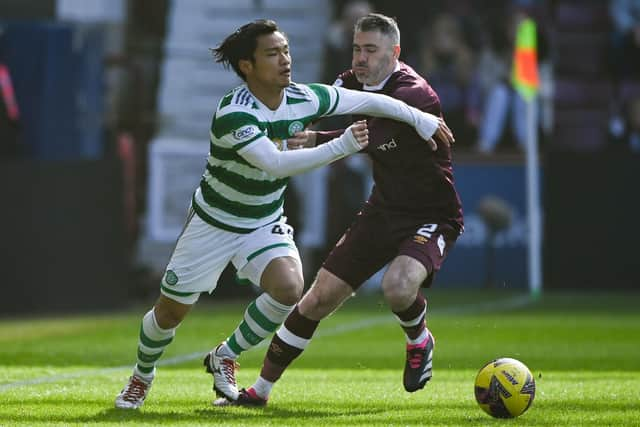 Introduced in 2011, before the arrival of VAR, the Scottish FA rule 201 gives a disciplinary panel the power to impose two-game bans for acts of simulation missed by the match officials.
"We have advocated for some time that there should be a retrospective red card issued – and therefore a two-match suspension – for what was blatant cheating," he told Grosvener Sport.
"The anomaly is that VAR can't get involved because diving is not an ordering-off offence. Reo Hatate has been a terrific player in Scottish football but that was bad. It's a blight and it's horrible to see and I don't know why retrospective action is not being taken by the SFA for these offences – they seem to have stopped doing it."