Let's be honest, it was pretty much a stick-on that a Celtic on an 18-game domestic unbeaten run comprising 17 wins would emerge victorious, and so restore their nine-point cinch Premiership lead. As they duly did with a 2-0 success that, all told, was fairly pedestrian in nature. No, the facet to cause jaws to drop to the floor of most Scottish football observers was VAR actually working perfectly. Like a dream. And not just once, but – and make sure you are sitting comfortably, now – twice. Any suggestions to the contrary requires would-be whingers to disregard overwhelming evidence.
Though Celtic practically had the ball to themselves for the opening 45 minutes, and pierced the home defences for several openings without reward as they moved them around, it wasn't until the 43rd minute they looked set for a breakthrough. Only for VAR to force them to wait. Referee Don Robertson, at that juncture, pointed to the spot for keeper Mark Birighitti appearing to wipe out Kyogo Furuhashi as he thundered forward to punch away a cross. VAR operative Euan Anderson considered otherwise, and after he instructed Robertson to consult his pitchside monitor, Robertson came to the same conclusion and reversed his decision. The proper use of the technology, the keeper may have caught Furuhashi's head with his left glove just as he contacted with the ball using his right arm. However, it was there to be won, and the Australian could not simply disappear after he propelled himself through the air to do so.
Only nine minutes into the second half, a VAR system that had then taken from Celtic, gave to them as it offered welcome assistance to Robertson. To provide the coup de grace only 100 seconds after Jota had put them one up. The second VAR involvement came through Robertson missing – as can happen – Kieran Freeman nuttily yanking his hand from his side upwards to deliberately nudge a ball that Jota had sought to flick behind him. Another trot over to his monitor for Robertson allowed him to make good on his omission and award a penalty that was rammed in from the increasingly influential Aaron Mooy for his fifth goal in only seven games. Three of these from 12 yards … despite the Celtic faithful forever chuntering that they never receive penalties.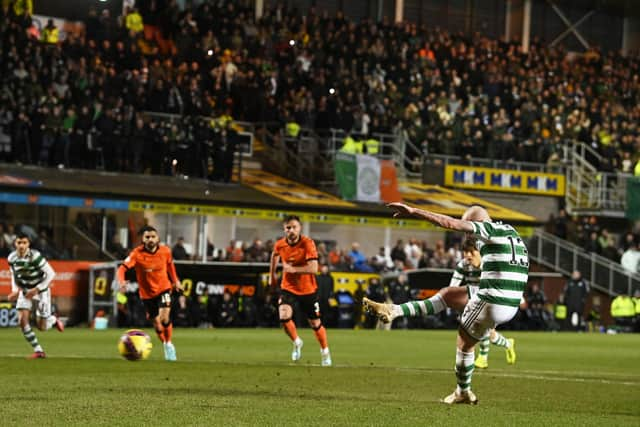 It was the second crucial intervention from the Australian international following his integral part in the goal that broke the resistance of Laim Fox's men that was always of the token variety. A fact that allowed Callum McGregor to stroll in his 400th club appearance. His midfielder confrere Mooy fashioned an exquisite arcing cross from the right that was misjudged by the all-in-a-fankle Birighitti, looping over him and dropped at the back post when Jota was on hand to nod in. As simple as Celtic's afternoon, in truth.
"It was a strong performance and professional with the conditions today," said Celtic boss Ange Postecoglou. "They worked really hard especially in the first half to try to block the gaps we were trying to create. Having said that we still go through on quite a number of occasion we just lacked a bit of our quality inside the box and alertness. We rectified that in the second half. On a difficult day I thought we handled it really well."