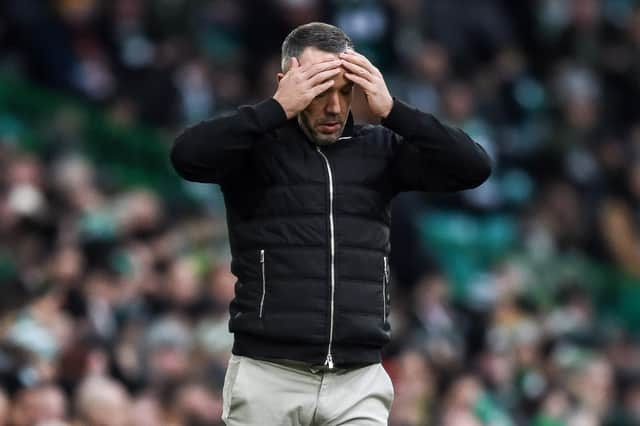 With the tie scoreless, and the visitors having started confidently across the first quarter of an hour, a Leil Abada shot that clipped Jack Baird's toe made contact with Efe Ambrose's trailing arm that was in behind his body. It prompted no claims but after play continued, a VAR check was communicated to referee Kevin Clancy, presumably from the official in charge of the system, Craig Napier. The game was then halted for three minutes before he was asked to consult his monitor, awarding a spot-kick after doing so that was converted by Aaron Mooy to change the complexion of the tie. It left Imrie, whose Championship club were experiencing VAR for the first time, despairing.
"I thought we did really well in the first 15 minutes. We had some good opportunities but didn't take them. Then good old VAR kills the game," he said. "I don't know where Efe is supposed to put his hand. It took a deflection but that's what we need to live with when it comes to VAR. It seems to be every week. I remember watching a game at Tynecastle and it took six minutes to make a decision. It's killing the fluidity of the game. It must be brutal for players. Certainly, I wouldn't have wanted to play with it. It takes so long for decisions to be made.
"That's the third game in a row we've had a penalty given against us. You never get a call from the people above to say: 'Look, we apologise'. Listen, it is what it is. We let ourselves down with conceding a goal so soon after the penalty [but] there needs to be a clear message as to what is and isn't a penalty going forward.
"Last week in the [Vialay] cup semi I think [Celtic] got away with one with the Kilmarnock foul. Listen, it is there to try and help. I don't think that situation was there to be helped with. It should have just been a case of playing on. There wasn't claims from any Celtic player to say it was a penalty. I had a chat from the fourth official [Barry Cook] that I will keep personal because I wouldn't do that to the guy. Listen, it is a VAR decision to give the penalty so take from that what you want to take."