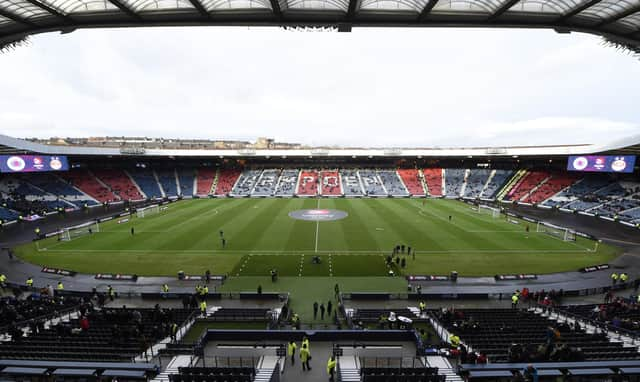 "The quality of the pitch was not how the semi-finals of the Scottish League Cup should be," it was said. "It makes it very hard for the players." One of those went even further. "I think that's the worst pitch I've played on for a long, long time." The words of then Celtic manager Ronnie Deila and his captain Scott Brown following the ploughed field that the last four encounters ended up being contested on back in 2015. And here we are again. The difference is that the Scottish Football Association did not own the stadium back then, essentially rented out for the latter stages of the competition by the Scottish Professional Football League. It was operated by Hampden Park Ltd, from which came an admission it was "regrettable" the surface not did not meet expectations. Uhm, "excessive rainfall" given as an explanation. Hmm …
The backdrop to the bog of a surface for Celtic's 2-0 win over Kilmarnock on Saturday night and Rangers' 2-1 success over Aberdeen just under 24 hours later doesn't make for easy finger-pointing. There are certainly questions for SFA. Some sympathies, too, are warranted considering the monsoon conditions that have enveloped Glasgow for much of the past two months. As well as over the winter World Cup necessitating that these semi-finals were staged in mid-January – the most inclement of months – and not their now traditional time of late October. Moreover, global warming none of us can stop must be factored in. Between the 1990s and the 2070s it is predicted to increase rainfall in Glasgow, Scotland's wettest city, fourfold. Yup, you read correctly, we are 30 years into an 80-year span by the end of which there will be four times as much rain in the country's football capital. God help us as the heavens open ever more.
None of this entirely excuses the nick of a pitch that proved threadbare and swampy. The fact the SFA is a members' organisation required to balance any outlay with distributing monies to clubs might have played a part, though. At Celtic Park, Ibrox and Murrayfield, hydroponic light rigs are utilised to stimulate grass growth during the winter months. Not at Hampden, as costs and energy use in the current climate – if you will – have brought resistance to such spending for essentially 12 games a year.
Set against that, in 2015 there was the issue of owners Queen's Park playing at their then Hampden home. Ahead of the first phase of their Lesser Hampden refit being completed, the promotion-chasing Championship team have been tenants at Stenhousemuir largely, and understood to have only played two games at Hampden in December. Ultimately, then, there has to be soul-searching from within the SFA membership about the level of investment there is a willness to commit in order to ensure a pitch befitting the game's national stadium.
In response, it will be pointed out £200,000 was spent on pitch stitching as recently as October, just as Scotland was about to be regularly beset by rains of Biblical proportions. Apparently, drainage has not typically been an issue. However, It may be that the previous typical no longer has relevance as our wrecked planet produces increasingly meteorological extremes. Bottom line is that there must be some attempt to address the situation before the Viaplay League Cup final on February 26, which comes only a month before Scotland begin their Euro 2024 qualifying campaign. Not so easy to set out the solutions, mind. It never is.