Following a commanding 3-0 victory at Tynecastle that extended Celtic's winning sequence to 13 games, the Australian was asked whether – with the last-four date at Hampden to come and a nine-point Premiership lead for his League Cup winners – he allowed himself to think about winning "all the competitions" in Scotland.
"How many different ways have you asked that question?" came the 57-year-old's smiling response to his inquisitor. "We've got Hibs next week and that's where our focus is. It's worked well for us that way and that's not a throwaway line. I get it. I spoke about it before the game, football in Scotland is very much a cauldron. There isn't a person who hasn't got an interest or some skin in the game.
"There is always a lot of noise, a lot of talk. Our role is to stay really disciplined and focus on what is important to us. The lads have embraced that, they understand that if you take your eye off the ball you are going to trip up. We never look beyond the next challenge. It's a cliche, but that's the only way we are going to achieve what we want to."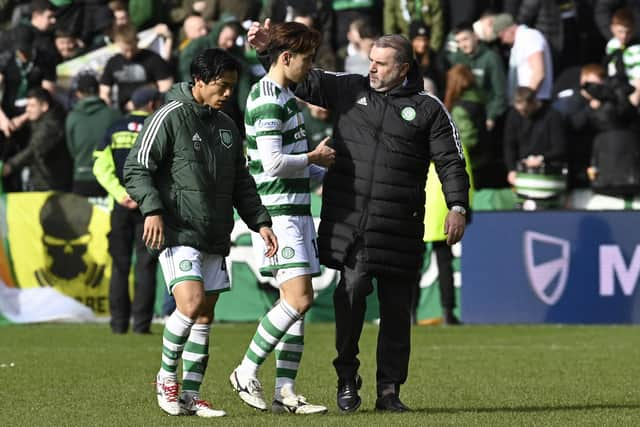 Postecoglou, almost to the point of appearing pained, accepted that if his side continued their imperious form they would be hard to stop, although he wasn't reticent about acknowledging a steep recent upward trajectory for their excellence. "You have hit the nail on the head by saying 'if' we continue this form," said the Celtic manager. "There is always the possibility you won't if you don't concentrate, if you aren't disciplined and work hard every day. This group does work hard every and it's okay me saying that, but we see it out there. You see the end product but I see it from the whole group on a daily basis.
They push each other to be the best they can be. As a consequence of that, our performances have been really strong and are getting stronger. We look a stronger and better team every week than we were at the start of the year. And we weren't a bad team back then. The idea now is to prepare for Hibs next week and that is an important game for us before the [international] break. After that, we can get the head down and head for the finish line."
Meanwhile, Postecoglou revealed that Carl Starfelt was struggling with injury throughout the first-period before giving way to an assured Yuki Kobayashi at the interval. "He felt the niggle in his hip flexor in the warm-up and he flagged it in the game. We got him through to half time but you could see he wasn't moving well," the Celtic manager said. "He wasn't his normal self in the first half so we made the change. I don't think it's anything significant but it was good to get Yuki some game time. You could see his quality. He is only a young man and I thought he did well."