The arrival of the former Australia head coach in June 2021 was met with a fair degree of scepticism from supporters and pundits alike - particularly after an inauspicious start that saw Celtic lose three of their opening six league games under his watch.
However, Postecoglou defied his critics by going on to lift the title in his first season in charge and recently celebrated his third trophy with Celtic after regaining the Viaplay Cup with victory over Rangers in the final.
Two victories over Hearts this week would leave him on course for a potential treble with a century of games set to be racked up in a cinch Premiership encounter against the Edinburgh side at Celtic Park on Wednesday ahead of Saturday's trip to Tynecastle in the Scottish Cup quarter-finals.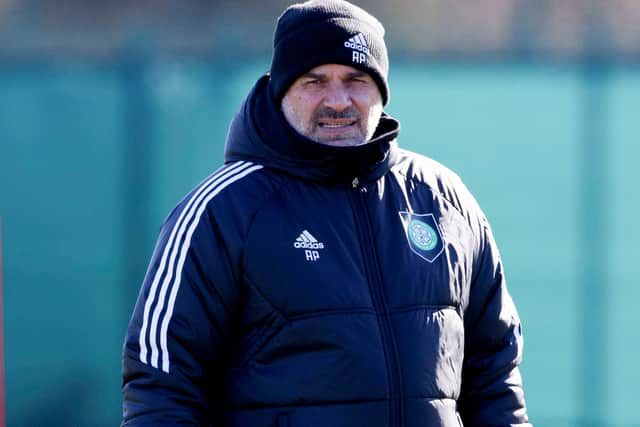 Postecoglou said: "With the volume of games we have at this football club, it's not that long in terms of length of time, but I guess 100 games is fairly significant. It would have been pretty long odds when I took the job that I'd reach it so I guess that's something."
When asked if he envisioned remaining at Celtic for another 100 games, the 57-year-old replied: "Can you see me here for another 100 games, mate? Are you a good judge of that? It's not up to myself. No manager lives in isolation. We all work with people and have organisations we work for. There's no manager that will sit down and say 'I will be here'.
"It's not our decision sometimes mate. That's why I've consistently always said that I don't think about those kind of things. What I think about is my responsibility at the moment, which is to produce a team that brings success to this football club and that the fans can be proud of. Beyond that, anything that happens is kind of irrelevent to what's most important."
While there were sceptics at the start, Postecoglou never had any self-doubt as he dismissed suggestions he might have exceeded his own expectations.
"I wouldn't have taken a job if I thought I wasn't going to do well," he said. "And I have said a few times, that's the responsibility of being at this football club, you understand that tangible success in terms of trophies is an expectation. I clearly understood that, I have said a few times that I knew I had to deliver that fairly quickly if I was going to be here for 100 games.
"Not because of the club's stance, just because I know that that's what this club demands.
"But my focus is always around the football, the kind of team we want to be, the kind of football we want to play.
"It's fair to say with that, what we have achieved in just over 18 months, has probably been the most pleasing part. We are really well down the track in terms of playing the kind of football and being the kind of football team I want us to be.
"Which is great, it means I can keep accelerating this and make us a more compelling football team.
"That's where I get the most satisfaction, not disregarding the success or the trophies, because they are the key cornerstone for any manager of any football club, particularly this one. But the kind of football we have played has probably been the thing that has pleased me the most."
When asked how far down the road to achieving his aims he was, the Celtic boss said: "It's an ever-vanishing target. If I think I am close, it just gets further away.
"That's how I have approached my managerial career at every club I have managed. There is no target. I have never set any goals because I have always felt that setting goals means that at some point there is an end point and I just don't want there to be an end point.
"I just want to keep improving, keep pushing the boundaries of how good we can be as a football club and how good I can make these players and how better the football can be. We will always be at a point where where we want to be is further down the road."