In Glasgow to catch the 3-1 win over Hibs and promote his night with Scott Brown event at the SECC on May 18 that will see monies raised for the Celtic Foundation, the Swede, though, could only be left "scared" about one apparently ailing element of the Scottish game he revelled in.
It emerged last week that there would be no away fans for the two remaining derbies between Celtic and Rangers. A consequence of the Parkhead club being rebuffed by their rivals in the desire to return to sizeable away allocations. Promoted by safety concerns over the 800 away fans' afforded entry to Ibrox, housed in a lower corner of the ground, been on the receiving end of a number of missile-throwing incidents in recent iterations of the clubs' match-up in Govan.
Lustig experienced the confrontation when Celtic were given the full 7,500-capacity Broomloan Stand, an arrangement ended by Rangers in 2018. Indeed, the defender no less than netted the goal that allowed them to secure a record 5-1 league victory at Ibrox in May 2017. The lustre the confrontation had then - which he contributed towards with a cheeky donning of a policeman's hat as Celtic clinched the league with a 5-0 drubbing of Rangers in April 2018 - will be lost through the lack of visiting supporters, he feels.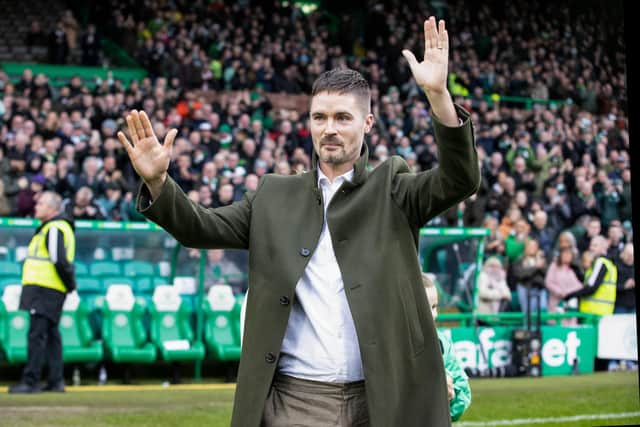 "It's probably one of the best fixtures in the world. Well, it was," he said. "So, for me, I just hope the away fans can come back. Because it makes that fixture really, really good – and all the people around the world are talking about that fixture. I'm a bit scared that, if you take away the away fans, the fixture isn't going to be as massive. I'm not sure whose decision it was – but I hope we can have them back.
"My goal at Ibrox was obviously one of my favourite moments [at Celtic]. To play there and beat them 5-1, and to score that [last] goal, that was good. The day of the policeman's hat was pretty good too. You need that rivalry in football. It's the same in Sweden, you need the big rivalries with the big atmosphere. So I hope we can get it back."
Lustig isn't enthused either by VAR's deployment in the Scottish game, his homeland standing apart from all other nations as a result of 18 out of 32 clubs rejecting its introduction to the Swedish top flight. "We don't have it because supporters didn't want it," he said. "When you get a penalty that you maybe wouldn't get before, you think it's good. When it goes against you … I don't know, I think I'm pretty 50-50. But I love when you score a goal that you can celebrate right away, because that's it, a goal. Now you see people scoring goals and waiting for a minute …If I need to choose, I'm against it. The clubs voted against it. There is a 50 per cent rule in Sweden, so the supporters' voices are quite clear – and they didn't want it."