What Celtic's week has been like amid Postecoglou speculation - and why he wanted 'wee break' from press duties
It is perhaps an indication of how serious Celtic are taking the speculation surrounding Leeds United's reported interest in Ange Postecoglou that his assistant felt able to crack a joke about it.
"We've just tied him to his chair and we've got a couple of security guards guarding the door!" was the response of John Kennedy, who took media duties ahead of the Scottish Cup fifth round hosting of St Mirren on Saturday. Of course, should an approach be made it would become no laughing matter for the club and their supporters who have come to idolise their current manager for the transformation he has overseen since his appointment 18 months.
Leeds have, according to respected sources, placed the Celtic boss on their shortlist of candidates. They have also been forced to scratch three names off that same list after being thwarted in their advances for Carlos Corberan, Andoni Iraolo, and Arne Slot, ensuring the links with Postecoglou, instead of going away, are only gathering more traction. However, while it is inevitable that Postecoglou will depart Celtic one day – and most likely for the English Premier League if his current trajectory is maintained – it is hard to fathom the Australian stepping away now, even if Leeds do come calling. With a title and League Cup secured in his debut season, it would seem un-Postecoglou-like for the 57-year-old to be tempted away in the midst of attempting to win his first treble, and without having had a second stab at the Champions League group stages after giving a good account, but ultimately failing to win a match, in his first campaign.
His Celtic project feels half-finished. Indeed, for Kennedy, it is only just beginning. "It does feel like this is just the start," said the assistant coach, who insisted that nothing should be read into Postecoglou's absence from Friday's media briefing. "There are no problems. He's in the building and he took training. To be fair, it was planned over a week ago that I would do press duties to save him from answering the same questions. He just wanted a wee break from it, so it was my duty to stand in. This was planned before any speculation. He's been his normal self this week. He's been good. It's the same as with the players who arrive at the club. If they do well over a period of time they start to get linked with clubs and there's speculation around them. Credit to the manager for the job he's done in bringing success over the last 18 months.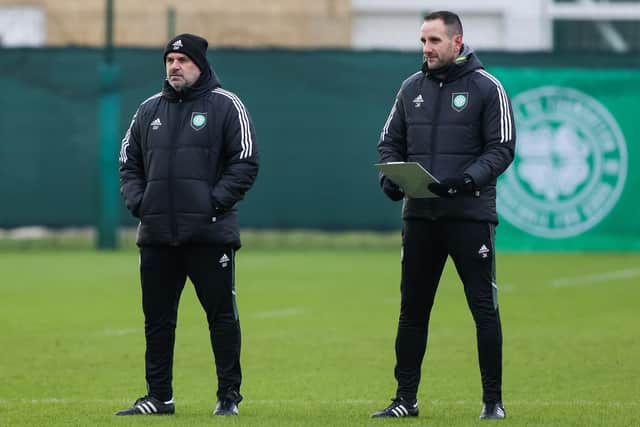 "He's built a really strong squad who have produced very good performances. With that comes attention. People are taking notice and he's getting credit. That comes with the territory. A lot of people watch Celtic from afar so there is going to be speculation, it's all par for the course. It means the club is in a good position and things are going well. It's all positive.
"He had a lot to do when he came in the first season and we finished the year strongly. I think it probably caught a lot of people by surprise who quickly got things going again. There was a solid foundation for this year with the players he brought in and the way he's got them playing. He's added to it again and it's all part of the process. We all know there's a long way to go and a lot more to come from this squad. Every conversation we have is about what we are doing going forward. He's very focused on what he has to do at Celtic."
While the rumour mill has swirled all week with plenty of opinions shared on the likelihood of Postecoglou staying or going, Kennedy insists the noise has not penetrated into the Celtic camp during the build-up to the St Mirren match with all focus on reaching the quarter-finals of the only competition that eluded the club's grasp last season.
"In terms of his approach it's been a normal week and he's very much focused," he added. "I know first hand how much he enjoys it here. He loves the club, the challenge and he's in the middle of building something quite special. He's happy where he is and we'll keep a watchful eye on him to make sure he's in our sights at all times!"
A driving factor in Celtic fans remaining aloof to the prospect of losing Postecoglou in the near future is the connection they feel to him – one they feel is reciprocated. The thought process being that he is a manager on his way to legendary status and there is no way he would jeopardise that by entertaining an EPL offer at such a critical juncture.
"Definitely. It's part of his duties as a manager to build that rapport between the supporters and a connection the team," Kennedy added. "That's a real strength of his. You see his real humility with the way he speaks. He's shown his human side. He's the manager of a huge institution but at the end of the day he's a human being and he respects the sacrifices the fans make to come and support their team, whether it's the cost, the time, the travelling or whatever. He has a lot of respect for that and always wants to give something back the other way. Over time he's built a real rapport with the fans and I think they appreciate each other."
Kennedy also appreciates the chance to work with the former Australia boss. "He's a great guy and he's pretty much like the way most people see him. It's just the way he is. He's a humble guy but he's very clear in his intent and the way he wants to work. It makes our jobs as coaches pretty easy. When he came in he had a clear idea of the way he wanted to play and train as a team, and the standards he set. Even during the testing times, when you lose games, like in Europe when you come under a bit more heat. He doesn't waiver. That's the one thing I've noticed since the start. He is very strong in his views and he sticks to his convictions and believes. He is convinced about what brings success and he won't wobble on that."
Comments
 0 comments
Want to join the conversation? Please or to comment on this article.