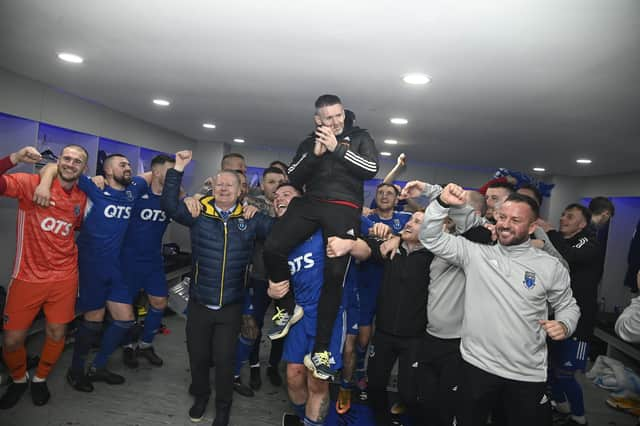 "It's hard to explain," said matchwinner Fitzpatrick. "It's a bit surreal. It's hard to believe. It will take a few days to digest how big a shock this is. I need to phone my boss and see if I can get the day off [to celebrate tonight]."
On his winning strike, Kirkpatrick added: "I just tried to get it on target, it wasn't the best of strikes. It means everything, you see the crowd. It just shows you we can step up in standards."
Goalkeeper Chris Truesdale, who made a number of excellent saves in the second half to repel an Aberdeen fightback, said: "Incredible. I'm just glad to help the team. We knew we would come under pressure at the end. I don't think we'll get much sleep tonight. Massive for the club and the community. I'm just so privileged to be on this journey."
His manager Mick Kennedy, who delivered an inspiring pre-match team-talk to help his team to victory, said: "I believed in the guys all week. It's about togetherness and love and respect. We've been driving that home all week.
"We probably deserved going in front. We had to show our togetherness. The community has been unbelievable. From the first day I came here I told the board we are going to build something special."
Darvel will have another home tie to look forward to in the next round when they welcome Falkirk to Recreation Park.
For Aberdeen, it will go down as one of their worst results in the history of the club. Former club captain Willie Miller believes that Dons owner Dave Cormack will now have a big decision to make on the manager's future.
"It's a really difficult situation that he [Dave Cormack] finds himself in," said Miller. "It's a huge decision for him. I think Jim Goodwin and the chairman will have to have serious discussions. I don't know if there's enough good will from the chairman to allow Goodwin to stay.
"To be perfectly honest, Darvel were the better team. Aberdeen had the ball in the back of the net and it should have stood. But it was a magnificent performance from Darvel. It's party night!"