With the backing of more than 8,700 monthly pledgers, the fans group were able to takeover the club in August 2021, making Hearts the largest fan-owned club in the UK. Despite the cost of living crisis, supporters continue to pump in £142,000 every month.
For Gerry Mallon, the foundation's chairman, the aim is to ensure the turmoil around Vladimir Romanov's ownership doesn't happen again which means long-term thinking, including increasing the pledger base. The group is already looking at how best to tap into the younger generation of supporters before they are able to make donations, which has included the help of a team of volunteers at Tesco Bank where Mallon is a prominent figure.
"It's really difficult, if you're a passionate fan, to not think constantly short-term about this week's results or next week's," Mallon said. "There's a real risk you knee jerk in response to a particular set of circumstances, instead of thinking longer term. The other temptation in football is always to invest short-term to achieve success and think you'll get financial reward, and that it'll be sustainable. Our job is to make sure the club thinks long-term.
"It's not necessarily about winning the next match, it's about making sure what happened to Hearts under Romanov doesn't happen again. That there always will be a club here that is constantly financially viable and the right decisions are made for the long term that will achieve success."
The next generation
He added: "We set a public target last year to get to 10,000 pledgers because we have never really broken above that 9,000 level. It's not so much about the money but the number of pledgers. Staying relevant so that we are visible and prominent. We are really starting to up our presence on social media.
"We are thinking and doing some research around what we do with and for kids. Not to try and raise any money off kids. I don't see that as a source of revenue but how do you get the youngest supporters whenever they are really starting to get the passion for the club, how do you get them feeling committed to the club and feeling like an owner and feeling like they are part of the heritage of fan ownership."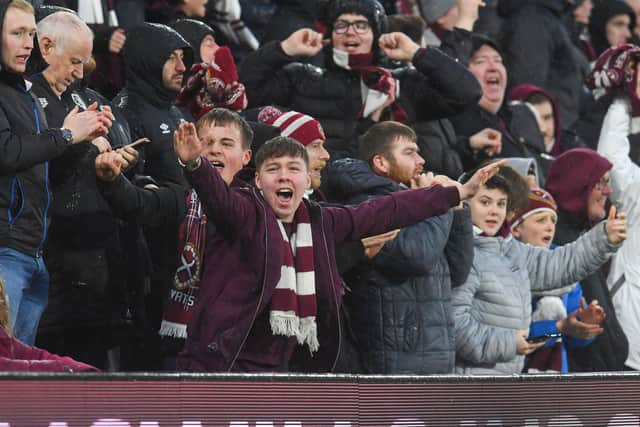 "If the foundation hadn't achieved all the things it has achieved and these people hadn't stuck with it all the way through then we wouldn't be where we are now."
The Foundation of Hearts, who have been approached by a number of clubs and fan groups around the UK, from Newcastle United to Falkirk to Newport County to learn from its success, are now keen to see the club take advantage of the fan contribution on the field.
"I think we are in the position where we are clearly the third biggest club in Scotland but where we can perpetuate the advantages of being in that position," Mallon said. "There's talk about trying to close the gap but I think trying to increase the gap on everyone else is the place for us to start."