In doing so he became the youngest player since Pele to feature at this stage of the tournament. But that achievement had to be parked on Wednesday night as Kuol endured a fraught full debut against Rangers.
While unmistakably a talent, the teenager's rawness was plain to see and was indeed probably amplified by manager Robbie Neilson's decision to play him out of position in midfield in the 3-0 defeat. He did look more comfortable when he was shifted up front but by then it was too late.
Rangers had already opened the scoring following a free kick given away by Kuol in the middle of the park after a mistimed challenge on Borna Barisic that might have brought a yellow card, or worse. Referee John Beaton appeared to appreciate the circumstances and was content to leave it at just the award of a free kick, which proved costly enough. It was good, sensitive refereeing.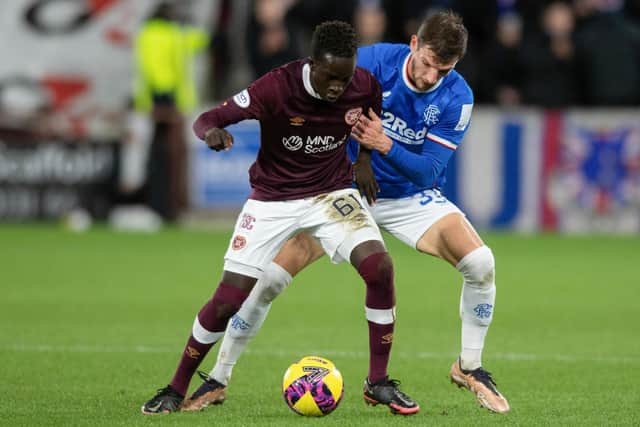 A mercy might have been to take the teenager off but that could have shattered his confidence. Kuol did not hide. He might even have claimed an assist for his lay-off to Barrie McKay, whose shot was blocked by Allan McGregor. Kuol also showed Barisic a clean pair of heels during a thrilling run down the right.
There is plenty to be excited about for Hearts supporters and such an experience, chastening though it might have been at times, is exactly why Newcastle United were willing to let him come to Tynecastle on loan. "It's a tough night for a kid coming to a new league," said Hearts skipper Lawrence Shankland afterwards. "The football is different and there will be a lot of learning. But he is a kid and he needs to be given time to develop. It's a massive difference between playing under-23s football down the road and playing first team football for Hearts against Rangers.
"If you look at his career, I don't think he has played that much first team football," he added. "But he looks good in training, he has talent. He has not got the 'wonderkid' tag for no reason. The talent just needs to be nurtured to make him a first team player. And I'm sure it will be. It's experience. Everybody needs to get it and along the way you make mistakes."
Neilson persisted with the personnel until half-time, when he used the interval as the chance to bring on a more natural midfielder in Orestis Kiomourtzoglou for Kuol, while Alan Forrest replaced James Hill. Shankland knows how it feels to be labelled precocious although he made the breakthrough at a far lower level, having been given his debut by Queen's Park at just 16-years-old.
"He is a young kid as well and people need to give him time," said Shankland. "I think he is only 18 and it's hard when young players get this 'wonderkid' name because it travels with them. People just need to let him play, he is a kid."