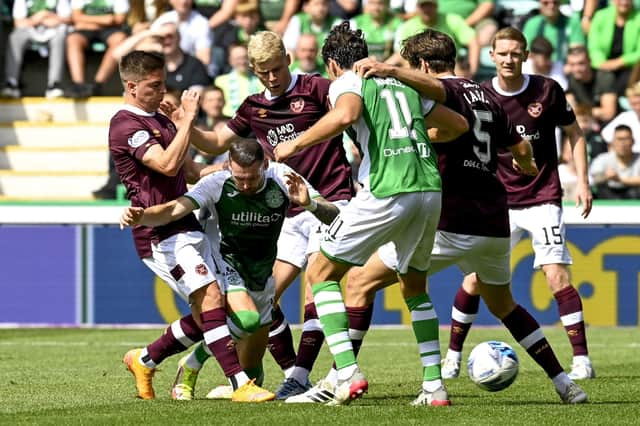 Determined to finish in the top three and push for silverware, as they try to guarantee themselves another shot at European football next term, they will have to do that without their No 1 on the pitch. But as yesterday's trip to the training ground proved, Craig Gordon will still have a pivotal role to play.
The goalkeeper's double-leg break in the Christmas Eve match against Dundee United ended his season and devastated his team-mates but, according to midfielder Cammy Devlin, they now have added incentive to reach their goals, insisting that any success will be dedicated to their captain.
"Absolutely. For Craig, having Christmas away from his family is just gutting," said Devlin. "There is nobody that would not agree with me there. He was in hospital on Christmas Day and that is just devastating. But I know he is back home now and hopefully he can celebrate with his family and his kids. To win the derby for him would be super special. But I think he would also be proud of us beating St Johnstone on Wednesday night. It can be easy to drop points in these games when the pressure is on but we showed how tight we are as a group."
The result in Perth – their first league win there since 2010 – gave the Gorgie side a points haul of seven out of nine since the World Cup break and took them into third place ahead of this afternoon's capital head to head at Tynecastle. And while Gordon will not feature in that match, he was determined to play some part in what the club hopes will be a bright start to the new year, turning up at the training ground yesterday to motivate his team-mates, lift spirits and focus minds.
"Yeah, 100 per cent that was great for us," insisted Devlin. "It was devastating what happened to Craig. To see him go down like that … he's Scotland's No 1, he was our player of the year last season, he is an inspiration to the younger boys, to everyone. To lose him in that fashion was really sad. We are all gutted for him. I texted him and told him the team is going to get together and said: 'the things we do are for you'. Having him [at Oriam] gives us added motivation to go on because having Craig Gordon on the pitch behind you is a good feeling, to be honest. Just having his big frame in goal. So it was great to have him in and about the boys before the derby. If we win, it will be dedicated to him."
As he has against so many teams, the keeper has been instrumental in pulling off some superb saves to deny their rivals over the years but with an able replacement in Zander Clark, Hearts will now have to find a way to construct a derby victory without him, in today's league game and then again later in the month, in their Scottish Cup tie. But Devlin, who is buoyed from his World Cup adventure with Australia in Qatar, where he bagged Messi's shirt and plenty of insight without actually gaining any match time, believes the Tynecastle side still have enough.
Since signing last season he has featured in a 0-0 and a 1-1 draw but he was also involved in the 2-1 Scottish Cup semi final triumph at Hampden. "I've drawn a couple but I've not lost a derby and I want to keep it that way. In Australia you play the derbies but it's not the same feeling playing here, in a proper football stadium with fans. Especially at Tynecastle, we want to give our fans something to cheer about going into the New Year and I can't wait. I relish these games, I absolutely love them, the atmosphere around them and everything that goes with it. A derby has just that little bit more."
In a season when their European access has seen them mix it with the likes of Fiorentina et al, and the bigger picture domestically is on picking up three points game after game, Devlin is fully understands the extra desire to deliver against Hibs. "These are the games the fans want to win. It's the Edinburgh derby and it's one of the biggest games on our calendar. But, you never know with these games. To be going into it in third place is great but when it comes to a derby it's 11 v 11 and anything can happen. That's been shown over the years but I'm very confident that if we play our stuff and stick to what we know we can do we can go into the game very confident."
There was disappointment the last time the teams met, as a late Martin Boyle goal denied Hearts all three points. Defensively, they will have to be on high alert for the duration but with Gordon, and probably Craig Halkett, who picked up a knee injury at Tannadice, missing, and Stephen Kingsley, who is following concussion protocols, also a doubt, there is pressure on the makeshift defence. "Getting third by the New Year was our target. It's massive especially considering the amount of injuries we've had. We thought having the break we would have players back but then we quickly lose Craig Halkett, Stephen Kingsley and our captain. Things haven't gone our way but you have to dig deep sometimes and I felt that's what we did in our last match at St Johnstone. We played some great football at times and we scored some really good goals. We just need to be focused in those little moments to get to where we want to be."