James Hill on why he felt pressure signing for Hearts, being recognised in Sainsburys and the secret behind his long throw
When a player moves clubs, just like someone switching jobs, starting at a new workplace, there is so much to consider. It can be daunting as it can be exciting. A new environment, a close-knit changing room of 20-plus professionals vying for 11 spots. If it is a team which is having success, certain standards need to be reached.
There is pressure and that's what James Hill found when he made the loan switch from Bournemouth to Hearts. A defender arriving from a Premier League club who spent a reported seven-figures signing him. For someone who hadn't been playing regularly there were doubts. Natural for the human psyche. Yet, he needn't have worried. He's lapped up the experience so far, of facing Rangers, winning a derby and progressing in the Scottish Cup. He's thrived.
"It does help coming into a winning team, but then it doesn't at the same time because as a youngster there are a lot of thoughts going through your mind," he said. "I haven't played in a while so I'm thinking 'do I actually have the ability to come into this team?' I know I'm at a Premier League club, but can I actually come into this team and improve it and not actually drop off from where they are.
"It's a lot of pressure. There are massive crowds. I'm coming into a league that, to me, is pretty unknown. I only really read about it before, but now I know a lot about it. I've been studying a lot, reading more about different teams, analysing different players before games. I think that now that I have a better understanding it's been amazing for me. I'm really, really enjoying it and the job is not done yet."
Sainsbury's and the javelin
Success on the park has translated to being recognised away from the pitch much more than he was at Bournemouth, including at Hill's local Sainsbury's. As a "quite a quiet person", it is a facet of being a professional football he is still getting used to.
"If it's little kids coming up to you and saying 'it's James Hill' that's nice because some of them will have aspirations themselves about being a footballer," he said. "They'll look at you as a role model because you play for their favourite team.
"That's the most important thing in terms of stepping out onto the pitch on Saturdays. There's a lot of people out there who... Hearts are their life. It's all they've got and I think they maybe don't know that we recognise the football club is massively important."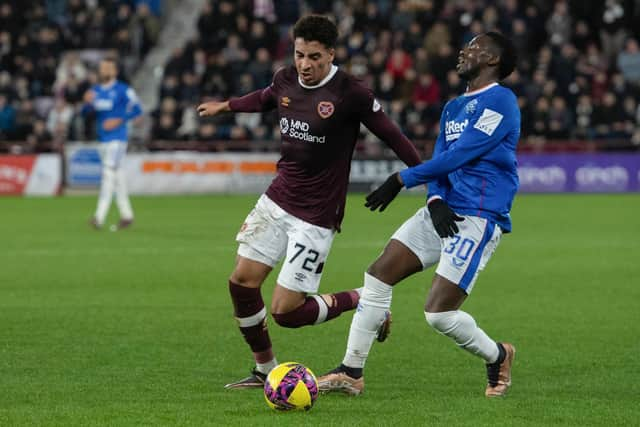 In the coming weeks, Robbie Neilson may look to utilise the player's long throw, honed in his high school years when he finished "top five in England in javelin in the national competition", even if the 21-year-old is wary opponents are wise to it.
"I discovered it when I was playing Sunday League," he said. "Frustrated we were losing, I just thought 'I'll try and throw it into the box'. That's a nice little thing to have in the armoury but I want to mix it up and go short now, because people will be expecting me to go long. I obviously want to try to beat them and throw it over them. But I'll need to start going short."
Comments
 0 comments
Want to join the conversation? Please or to comment on this article.