Still baffled by Tuesday night's decision to allow Ross County's equaliser to stand despite goalkeeper David Marshall being bundled into the net as the corner was swung in, the Easter Road boss heads to Paisley on Saturday looking to overtake St Mirren in the chase for fourth spot. But, adamant that VAR decisions are having an undue impact on results, he says it would help to have clarity on recent rulings so that managers and players know how to proceed.
"I think referees are potentially making fewer decisions based on having VAR as the back-up, but VAR then has to be completely convinced to go against the referee. So, I feel like there's a bit of a grey area. I'd like to have more conversations with the SFA.
"Has it cost us points? In my opinion yes, absolutely, but the bigger picture is what am I coaching my players? What am I teaching them?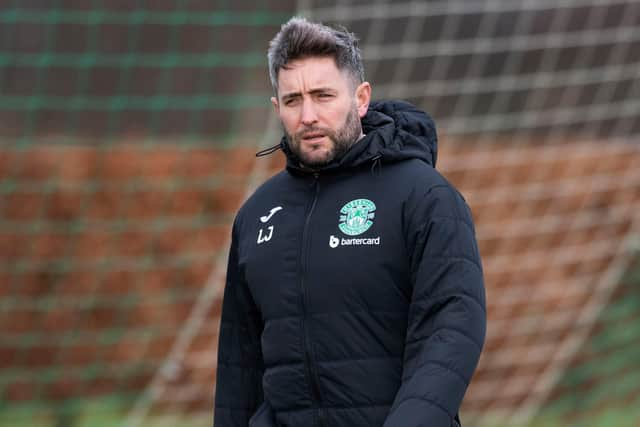 "Am I signing a bouncer to protect my goalkeeper at corners or will the rules and the officials protect the goalkeeper? Because if you're abroad anywhere other than Scotland and you touch the goalkeeper on the shoulder it's a foul.
"I want to protect my goalkeeper and stop opposition players invading the space, but am I allowed to bundle an opposition goalkeeper straight into the goal? In which case I need to recruit someone who can swing the ball Beckham-style right on top of the 'keeper.
"It's the lack of consistency that frustrates me, then the explanations on the back of it frustrate me even more."
While Kevin Nisbet will be absent from this weekend's game as Johnson awaits the results of a scan to determine the extent of his hamstring injury, there could be some early action for USA international striker Matthew Hoppe.
"There was a pinch of the muscle so best case scenario is probably a slight tear of the sheath of the muscle which will mean two-three weeks out. Worst case is it's the belly of the muscle which could be six to eight," said Johnson, explaining that Nisbet had wanted to start against Ross County after a sub appearance against Aberdeen.
"But at the same time he needs to be protected, that's why we signed Matthew to manage those minutes."
Stating that he is getting a stronger whiff of success from his squad post-transfer window and on the back of just one defeat in five, there is growing belief. The acquisition of James Jeggo and CJ Egan-Riley have helped with that and Johnson hopes that Hoppe can do likewise.
"Matthew gives us the attributes we haven't got. I think that one will be interesting. He will either take hold and take the challenge and perform well or it could be difficult because this is a tough league."
Jake Doyle-Hayes is fit for the head-to-head with his former club, while Kyle Magennis is back training on grass. Johnson revealed that Myko Kukharevych, who he would like to tie up on a longer deal, either on loan or permanently, could also be ready for a phased return within three or four weeks, while former Aberdeen defender Michael Devlin is currently on trial at the club.