A loan signing from Swiss Super League outfit St Gallen last summer, the 23-year-old did not score his first goal for Hibs until mid-October, a consolation in a 6-1 hammering by Celtic. Flashes of his undoubted ability, pace and trickery had been witnessed prior to that strike, with important assists against Hearts and Rangers, but his goal-return was poor for a forward. Composure at the key moment appeared an issue, and there were certain parts of the Hibs fanbase who were becoming frustrated with him.
Since the World Cup, however, Youan has come back a much-improved player. The former Nantes youngster has started every one of Hibs' past 12 matches and has shone in almost all of them. In his last five outings, he has scored five goals, his latest haul coming in the form of a double in Saturday's 4-1 Premiership win over Livingston. While he still has a frustrating habit of holding on to the ball for too long and sometimes over-egging the pudding, his searing speed either as a No 9 or wide of the left make him one of the league's most dangerous players. He is also exciting to watch, an entertainer. Hibs fans are certainly enjoying having him around.
So what has changed for Youan since the start of the season? "I think it all comes down to small details," Youan said in the wake of the win at Livingston. "When I come to training, for example, I want to give the best version of myself every single time, during sessions and during games. I want to give my all for the team. You can see now how confident I am and we, as a team, are confident. That's why I'm in good form now."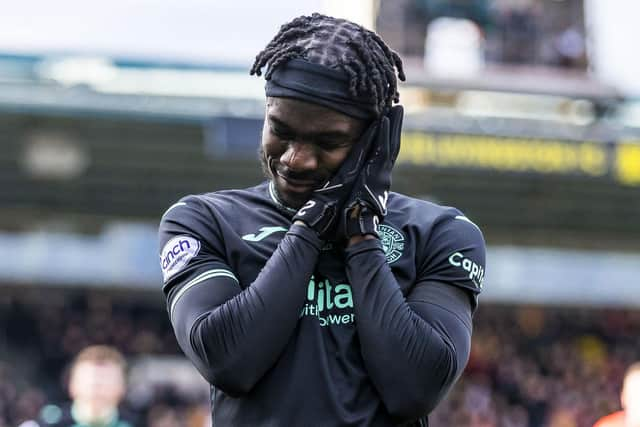 Youan pinpoints one game in particular as the catalyst for Hibs' good form. One a seven-game unbeaten league run – five of those have been victories – Lee Johnson's men are currently fourth-placed on 40 points and only five behind third-placed Hearts. Their place in the top six is not secured yet but Hibs are looking up rather than down.
"The 6-0 win against Aberdeen [at Easter Road on January 28] created something in the changing room," explained Youan, "and now we are happy and chilled every day at the training ground but we also give everything – you need to have those two things together. It's good for everyone. We're not in this position by accident, it's not random. We have worked hard and the biggest factor for me is our team spirit. We are united and we take that into our matches.
"I think your are now seeing the true Hibernian. In my opinion, we have great potential as a side because we have young players but we also have older ones with experience – like David Marshall, Paul Hanlon and Chris Cadden. Since I came here I have been thinking about how good they can be and I still feel the same way about them."
Youan is one of many foreign players who arrived during last summer's signing influx, some on permanent deals, some on loans. The French Under-20 internationalist falls into the latter category but Hibs chief executive Ben Kensell spoke last month of his desire to take up an option-to-buy clause for him. When speaking to Youan, he comes across as a very laid-back character and it was therefore unsurprising to learn that he is not thinking about his long-term future right now.
"I'm focusing only on the next game and not really thinking about the future," commented Youan. "There have been no discussions of that kind, we only talk about football – who we play next and what I can do to help the team, how I can progress and be more clinical. Anyway, I don't talk about contracts because that's not my business, but you can see I'm happy here. I score goals and I have assists for others. I like Edinburgh a lot – it's my home now."
Rangers are up next on Wednesday for Hibs on what is sure to be an emotional night under the lights for the first match since the passing of the club's owner Ron Gordon. "We believe we can win against them," Youan smiled. "We are the home team so let's see what happens but we are confident – everything is possible in football. If you believe in yourself you can do anything."
Before leaving the media room at the Tony Macaroni Arena, Youan is asked about his goal celebration. We are seeing it more and more, a run to his fans and then a gesture of falling asleep, his head cocked to the side on his hands. "That's funny because I sleep a lot," Youan laughs. "In fact, I love sleeping. It's my hobby so, whenever I have any free time, I go to sleep. I sleep for at least eight hours every night and then I nap for a couple of hours during the day. I sometimes have one at the training centre. On Saturday, I slept in the coach on the way to the stadium. I do that often and sometimes, when we arrive and I wake up, I've forgotten where we are. My team-mates tease me about it."
Rangers, and the rest of the Premiership, certainly need to be awake against Youan right now.