Hibs chairman Ron Gordon hopeful of reaching agreement with players over wage cuts and bringing new faces to club
Assurances given as club looks to remain competitive despite cutbacks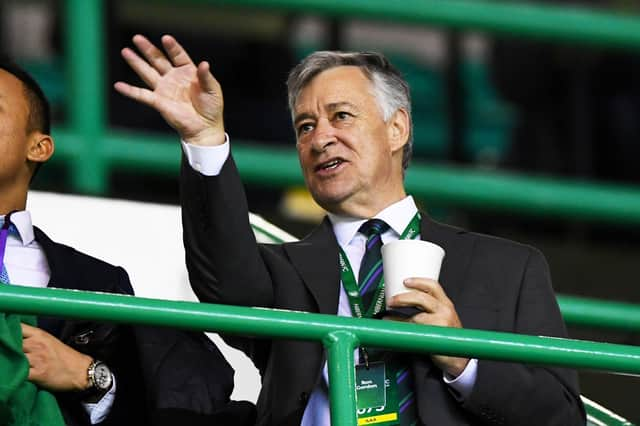 Hibs chairman Ron Gordon is hopeful of reaching an agreement with players over proposed wage cuts at Easter Road.
The American-based businessman also gave assurances that the cutbacks won't prevent Jack Ross from making new signings ahead of the new Scottish Premiership season starting in August as he outlined the financial challenges facing the club in an address to supporters.
Hibs players have been asked to consider wage cuts, on top of the deferrals which were previously agreed following the shutdown in March, as part of a number of proposed cost-saving measures at the club due to Covid-19 crisis.
Despite reports of encountering some initial resistance from the squad, Mr Gordon is confident a deal can be struck.
"The players have been magnificent really. When we asked them for a deferral which helped our cash position significantly, they stepped up," he told Hibs TV.
"It was a voluntary initiative and they all stepped up which speaks to the spirit that exists at the club. The players are a critical part of that because their contribution to financial health of the club is very important.
"I don't think we can really address our cost structure without having a conversation with the players. And as they have in the past I'm sure the players will see the ways in which they can contribute and help the club shore iself, so we can navigate this difficult time in an effective way, and as quickly as we possibly can."
Mr Gordon also assured supporters that the club plans to add to the squad this summer once the internal financial situation is addressed.
"Wherever we see opportunities to improve the team, I think we're going to take them," he said.
"There are two very big pillars on which we need to manage through this. One is that we need to have our costs in the right place and reduce our operating budget to something that is reasonable and can help us manage through the difficult financial time.
"But two, that we're still a football club and we need to compete and continue to look at ways in which we can improve our team and do all those initiatives and make moves which are going to help us be a better football team.
"(We want to) manage the club financially the best we can through the difficult time, and look at our football team in ways we can improve it so when we play our first match in August we're in very good shape and competitive."