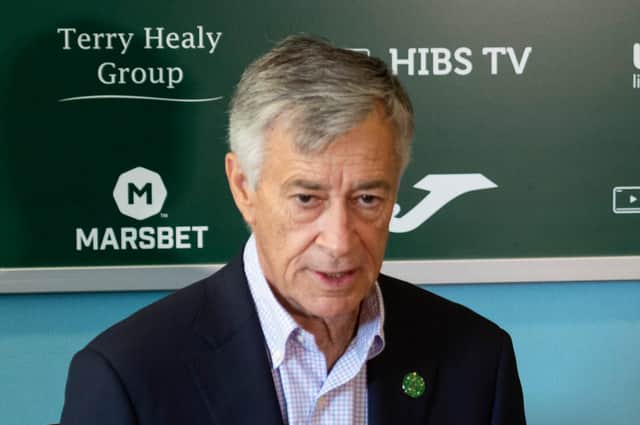 The US-based businessman, who took control of the club in 2019, has been a regular visitor to Leith since then, often spending extended spells in the capital. However, he has been conspicuous by his absence this season and, after on-field matters cast a spotlight on the board and rumours began to circulate, he has penned an open letter to supporters to provide an explanation.
"Some of you may have noticed that I have not been at Easter Road in some time," Gordon said in a letter posted on Hibs' website. "I love the club and I love Edinburgh, and I come to our home in the city as often as possible and go to as many games as I can. That is why I'm writing this letter to you all to explain why I've not been around as usual.
"For most of this past year I have been receiving treatment for cancer. It has been a difficult time for me and the family, but I'm blessed to have their love and support as we navigate through the challenge. I imagine many of you will have gone through similar times in your own families. We all stick together to get through these difficult times. Unfortunately, my treatment has made international travel a little more challenging as I'm sure you will understand."
Gordon moved to assuage fans' fears and assure them that the club remains in good hands, saying: "While undergoing the treatment I've remained in daily contact with our chief executive Ben Kensell, who continues to run the club with the support of the board. That will remain the case as we continue to move forward on a variety of initiatives to further advance the club. I want to assure you all that our family's commitment to the club's long-term success remains absolute, and I will be back with you at Easter Road as soon as my treatment allows.
"I realise that our men's team has gone through a challenging time on the pitch – it was disappointing for all of us to go out of the [Scottish] Cup to our city rivals. However, the result and performance against Aberdeen showed that we can be a real force in this league once we manage to achieve some consistency. There have been mistakes, but we are learning from them, and we are working to put things in place to be better going forward."
The cup defeat was the club's only loss in five games and after an overhaul of playing personnel in the January transfer window, they feel they are in a solid position, just two points off fourth place, to push for ongoing improvement following a turbulent time. Gordon has urged the supporters to play their part.
"I am very grateful and fully appreciate your continued support of the team and the club," he added. "As you know, it will take all of us working together to help the club achieve its goals on and off the pitch, so your commitment and engagement is both necessary and very welcomed. As always, thank you for your support and your trust, and I wish all of you the very best for 2023."