Hibs played some lovely football in the first half with Euan Henderson, Elie Youan and Josh Campbell causing the away side all sorts of problems. They were allowed to demonstrate their creative qualities thanks to the platform given to them by James 'Jimmy' Jeggo and CJ Egan-Riley. The former provided plenty of energy and combativeness, while the latter provided a patrolling presence, picking up the ball and recycling it. Nothing fancy, that's not what was required of him, instead giving it to the team's attacking outlets to do their thing. The duo gave Hibs a really solid spine, ensuring they dominated Kilmarnock's midfield and their selflessness allowed Josh Campbell in particular to play with freedom.
With Jeggo and Egan-Riley, who has proven his versatility, added to the squad, you now look at what Johnson has at his disposal and it is much more encouraging than he had going into the window. Yes, Martin Boyle is out for the season and yes, Ryan Porteous has left but players are coming back from injury, others are stepping up and it is putting the team on a much more sound footing and position. Johnson will now have enjoyable selection headaches, especially in the centre of the pitch and in attack.
Speaking of Campbell. What a transformation. If the SPFL handed out an award for the most improved players, the 22-year-old would be the front runner to scoop it. If he wasn't channeling his inner-Guti to set up Elie Youan for a chance, he was getting in the face of an opposition player to win the ball back. It an all-action performance which saw him record the most shots (4), create the second most chances (2), have the second most successful dribbles and have the second highest number of recoveries (10).Lee Johnson has previously called him the "perfect" player and is keen to get more from him in an attacking numbers sense. Within the space of 12 months he has grown from a player who was struggling in a deep midfield position to one thriving higher up the park, blossoming with more freedom and responsibility.
Hibs have caught a whopper
There were a couple of glances when Matthew Hoppe was named man of the match. Not that the American didn't have a good game, he did. Just that he didn't have as good a game as the aforementioned Campbell or Will Fish. He is becoming an increasingly popular figure at Easter Road and with a new centre-back through the door in Mikey Devlin, is ensuring he is undroppable. We could lavish the on loan Manchester United defender, who thumped in a header to put Hibs 1-0 up, with praise but we will leave that for Lee Johnson…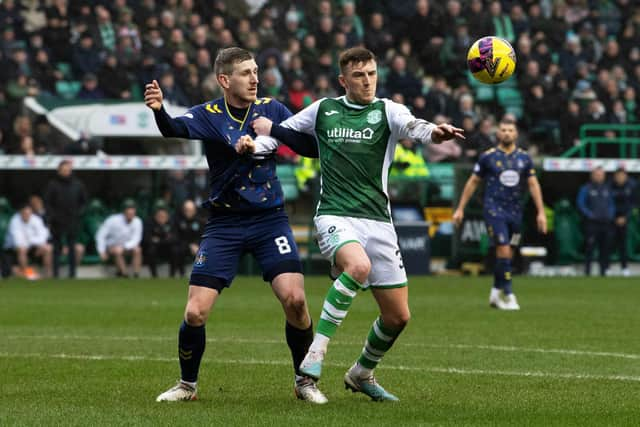 "He's got everything, if you could build a centre half you'd build a Will Fish," he said. "A couple of the diags he hit in the first half, nice and calm and composed. We put a lot of responsibility on the centre halves not to just lash things."
Of the 16 players involved for Kilmarnock in their loss to Hibs, 14 are not contracted to the club next season. It adds an interesting dimension to the run in. It would be fascinating to see what team Derek McInnes would build providing they stayed up. He would effectively have a blank canvas to build around and supplement Daniel Armstrong, one of the most valuable players to one team. But for that to happen they need to survive and it seems it will be solely down to their home form. They've had brilliant away performances and results in the cups but it hasn't translated to the league. Peterhead, who prop up League One, are the only other team with a league win on the road. It puts so much more pressure on those home performances and results. Motherwell, St Johnstone and Hearts are up next at Rugby Park with six points at least the target.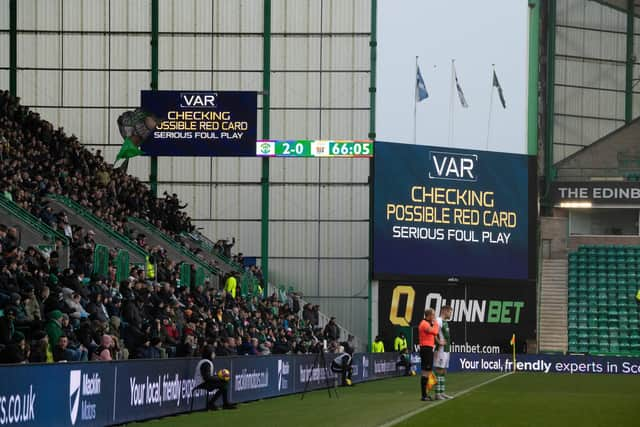 It was captivating watching and listening to Derek McInnes express his disbelief and frustration with VAR and how it is being operated. You wonder, at this point, who VAR is for. It is irking managers and players. Annoying fans and only increasing scrutiny in referees. The only people enjoying it must be some sort of subgroup of Scottish football who have a VAR fetish and discuss it on whatever the Scottish football version of 4chan is.