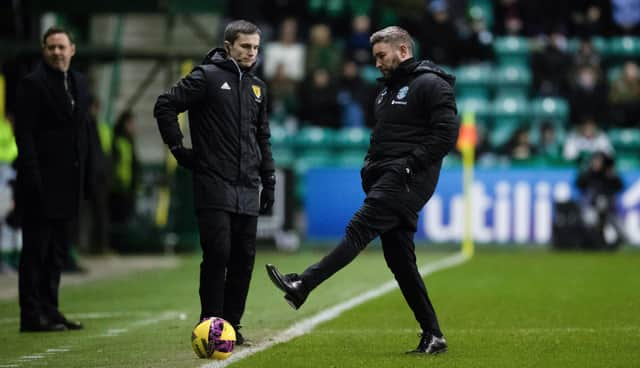 The Leith side have taken just one point from five games against Celtic and Rangers this season, conceding 19 goals and netting six in response, but Johnson says he genuinely believes that his team can defy the odds and secure a victory.
The next opportunity will come against Celtic at Parkhead on March 18, but they will have to up their performance levels, according to their gaffer.
"We showed too much naivety and a lack of technical quality. You've got to be brighter in your mind, your touch has to be softer, you've got to know your next pass that little bit quicker and all around the pitch we were nowhere near good enough.
"You have to give credit to Rangers - they were snappy, they were on us, I thought Ryan Kent was outstanding in terms of running the game from that central area. Our players need to step up in these games. We've conceded chances and goals of our own doing.
"The second and third goals were two naive and big mistakes - we've got a centre-forward taking a throw-in deep in our third, who throws it to the other one, who gives the ball away, and then they cut through us like a hot knife through butter because we're not organised.
"In these games you have to be smarter and you have to know when to control the tempo, when to speed it up."
Having taken the lead, Rangers responded strongly and quickly reigned in their hosts, romping into a 4-1 lead. And, by the end of the match Michael Beale's men could have added to their tally. Johnson says that the staff now need to ensure that the players' confidence does not dip after their unbeaten run came to a halt.
"We have to guard against that. We were seven unbeaten before this game and the players have done ever so well to turnaround a tough run. They've shown a lot of spirit and this is another game where we've got to learn our lessons.
"I have got to be careful because I'm not sure whether I knocked the boys' confidence after the 6-1 at Parkhead. We went on a bit of a bad run after that but you are getting to know your players all the time. But, within me, I'm still desperate to show off what Hibs are about. When we play well we have running power and threats and guile and control and compactness in and out of possession and I come back to the fact that teams I have managed before always competed well against higher opposition, whether in FA Cups etc. So, I won't lie, it is niggling away at me a little because I am desperate to prove to ourselves and I'm desperate to prove to the fans that we can infiltrate in on-off games and get closer to these guys."