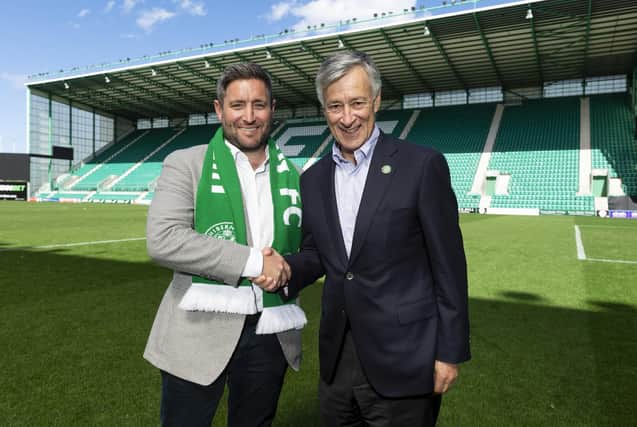 The US-based businessman passed away on February 20 following a 12-month battle with cancer and news of his death hit staff hard. But, Johnson and club veteran Paul Hanlon agree that the best way to honour him is by bringing success to the club he worked so doggedly to turn around.
Revealing details of his final chat with the man who bought control of the Easter Road club in 2019, Johnson said: "It was typical Ron. He was full of support for the players. He was delighted with the recent performances, really happy with where we were in terms of the grit we had shown in games and the skill that had been on offer. He was really happy with the new signings, and I think he felt we were heading in the right direction."
He added that Gordon's love for the club and his determination to make his mark remained evident in the hands-on approach, even throughout his illness. "I've done Zooms at 11pm, 12am, 1am to make sure we get things right. If you're not bothered you don't do those things. He had other businesses to run but you never ever felt there was boredom or he wanted off the phone. A half-hour Zoom would be two hours. A 20-minute phone call would be an hour and 20. So the questioning, the curiosity, the stories, he loved to be a part of the team, to find out about the banter in the dressing room, enjoying the wins, feeling the losses, and trying to drive the place forward."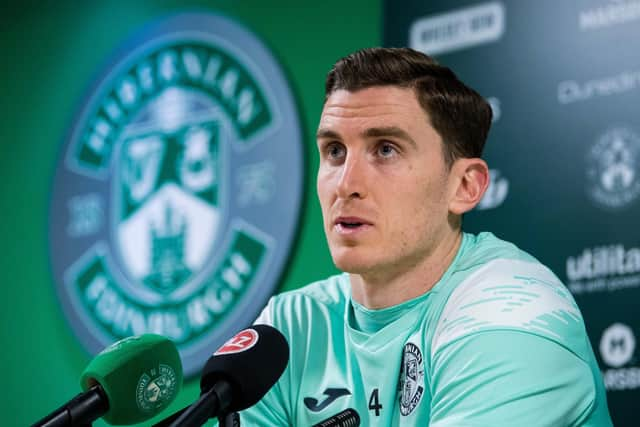 Following the funeral, in Arlington, Virginia, on Thursday, there will be a memorial service in Edinburgh on Tuesday, but, in between, the playing staff and the fans have the opportunity to show their appreciation at Livingston on Saturday as they look to press city rivals Hearts in the chase for third spot. That desire for ongoing improvement perfectly reflects the values instilled by the 68-year-old, who brought positivity and a can-do attitude.
"I have got is this image in my head of Ron going: 'I love it!'" Johnson said, his arms spread as wide as his grin as he attempted to emulate the accent and the mannerisms of his former boss. "For me, that sums up our relationship. We were often questioning and pushing and challenging each other. It was honest. Ben [Kensell, chief executive] and Ian [Gordon, Ron's son and the club's Head of Recruitment] were also a big part of that. All we wanted to do was drive the club forward. I have a lot of opinions, and with the good ones, that was the response I would get! His enthusiasm, his charisma, I enjoyed being around him. I enjoyed debating. We had robust conversations but behind those was the drive to move the club forward and honesty, respect and a set of values you wanted to fight for."
Hanlon attests to the character traits that made Gordon popular within the dressing room despite raising the bar early doors. As club captain, one of the defender's first conversations with Gordon revolved around discussing player bonuses and he says it was easy to see how the self-made man had succeeded with his many businesses.
"There was negotiation but the way he set it out, it was all focused on being successful," Hanlon recalled. "That was his main aim for this club. He wanted to make it better. The only way the bonuses were going to be paid was if we were successful or improving. It showed he had that drive and passion for the club and he was determined to improve it in every aspect.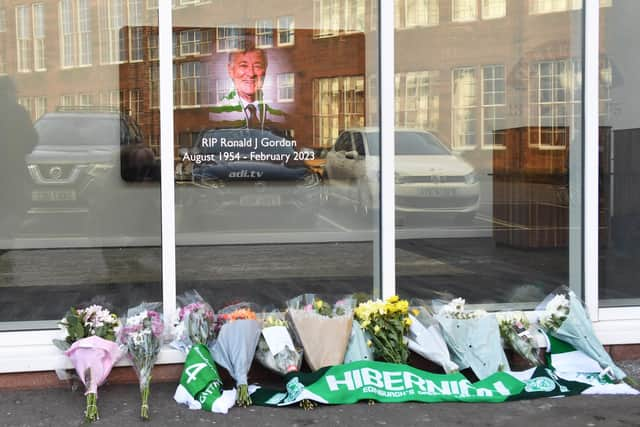 "I totally got the way he was thinking. It was different from what we had been used to and was more focused on bonuses only being paid if we were successful. Or if we were improving. At this club things had been a set way for so long, and it was a different way of thinking but I can see what he was thinking. He brought a lot of different ways of doing things or ways of thinking to the football club and a lot of that has been really beneficial. He has improved every aspect of this club and he wasn't planning on stopping until we were successful. That is our motivation now.
"He wasn't just a player person, he was a people person and he cared about you and how you were, about your family and everything like that. He didn't have to take that interest, he was well above us players; it was his organisation, his business, but he did take that time to properly care and that is why so many people have so many nice words to say about him."
After a free weekend, Hibs return to action against Livingston this afternoon, looking to make it seven league games on the bounce without defeat. But, still mourning, they will have to control their emotions if they are to maintain that run, according to Johnson, who could welcome both Kevin Nisbet and Mykola Kukharevych back into his match day squad.
"Certainly for the players I have to take the emotion out of it," the manager said. "What would Ron want? He'd want warriors who are playing our way and executing the game plan. To do that you have to be in the moment. You can't be in the past, you can't be in the future.
"It's our job to get them going because there naturally will be an underlying low feeling. We have tried to do that and they are in a good place. The more confidence players get as long as it doesn't push into arrogance then we should be in for an exciting game and a good performance."