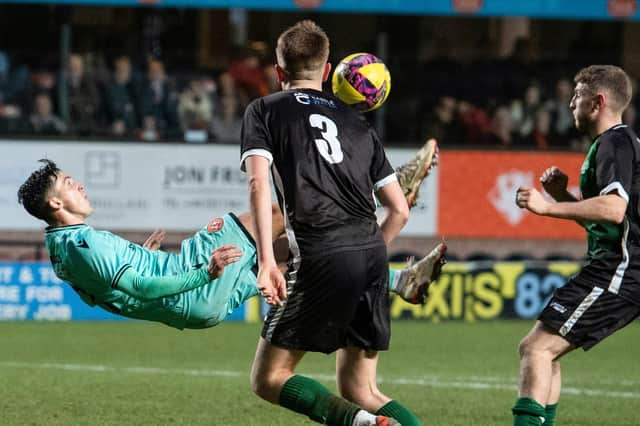 Here, the 55-times capped Australia international full-back was up against James Stokes, who is currently in the last year of a sports studies degree at the University of Stirling and who was being cheered on by a 52-seater bus load of family and friends from Glasgow.
Behich, reportedly currently interesting Galatasaray, certainly won't forget his Scottish Cup debut in a hurry. As well as scoring his side's opener in an eventual 3-0 victory, he was handed a torrid time of it by Stokes. After being left on his back after one full-hearted challenge, the flustered Behich appeared to flatten his opposite man in the box. Penalty? You've seen them given.
"I tell you what!" said Stirling University manager Chris Geddes later. "I see why Dundee United did not want to splash out for VAR! According to James, he thought he got fouled. He moves fast at times. If the ref thought it was a dive, he booked Peter Pawlett for diving, so he maybe should have booked James. That will be an interesting one to look back on in the Sportscene highlights."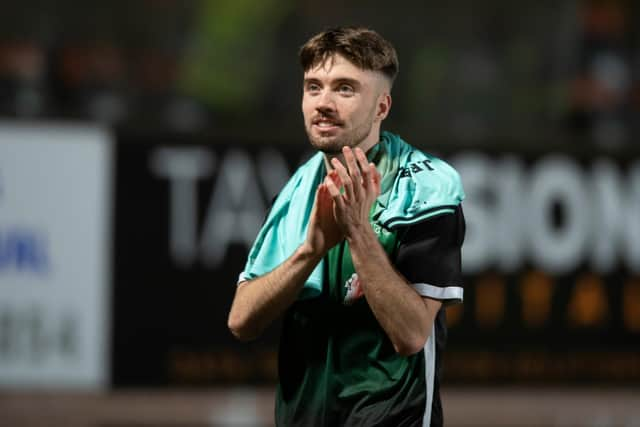 And yes, you read that right. Pawlett, the United substitute, was booked for diving late on while his team were 3-0 up against a team of students. Never mind 0-9 against Celtic, that moment should stand as the nadir of United's season.
Otherwise, the hosts proved charming enough. Geddes was invited into United manager Liam Fox's office for a post-game debrief. "He and his staff were really complimentary," Geddes reported. "And I believed it. Sometimes in football you get token gestures. But I know they were being sincere."
How could Fox be anything but complimentary? His side knew they had been in a game and had they not scored a crushing opener a minute before half-time and had referee Chris Graham pointed to the spot after 17 minutes, after the Behich-Stokes incident, then who knows?
Having held their own for 44 minutes, Stirling University conceded at the worst possible time. They were the first side to have a shot on target when Mark Birighitti had to scramble to deal with Jason Jarvis' effort.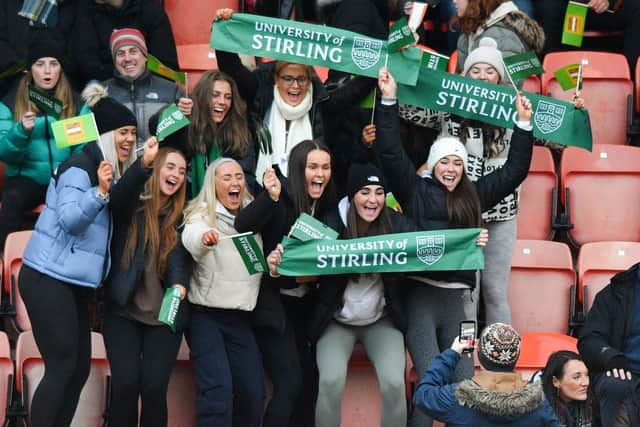 Just as the visitors were eyeing reaching the half-way stage still holding their top tier opponents, United broke the deadlock. Steven Fletcher nodded down Jamie McGrath's cross and Behich turned and slammed the ball high into the net from the edge of the six-yard box. The half-time whistle sounded moments later.
The reaction from the 3900 home fans in attendance was very different to what it might otherwise have been. A grudging silence translated as, 'it will have to do, I suppose'. It was better than the howls of fury that seemed set to be directed their team's way after such an obvious struggle to break down the opponents.
"This is a library!" chanted the 1047-strong away contingent. They'd know, it's fair to assume. "Dundee's a sh*thole, we wanna go home!" was not, however, what was expected from such a scholarly gathering. Neither was the cry of "fat Tory b*stard!" directed at linesman-stroke-Scottish Conservative Party leader Douglas Ross. Politics students these days, eh?
Amazingly, the visitors were still in the tie at the hour mark, when one goal continued to separate the teams.
Jamie McGrath's overhead kick after 68 minutes to put his side two ahead was an undoubted moment of class. A neat dink from substitute Glenn Middleton with nine minutes left put an end to any thoughts that Tannadice might become the scene of Scottish football's greatest- ever shock. United have been through enough this season.
They were simply happy to have negotiated a tie where the potential for embarrassment had been so high. Every misplaced pass, every inaccurate shot was cheered to the rafters. "We had to manage that today," said Fox later, with reference to the rowdy contingent from Stirling.
United's line-up was easily strong enough to start a league match. The big names were there: Fletcher, Charlie Mulgrew and ex-Manchester United midfielder Dylan Levitt. No one can say United did not respect their opponents. Fox did make one seeming concession to the level of the opposition by handing Rory MacLeod only his second start. At 16, the forward can't even enrol at university yet. The oldest player in the away side, meanwhile, was 23.
James Berry, the away side's skipper, kept things neat and tidy in the middle of the park. Ben Maciver-Redwood was a revelation up front. Geddes' greatest hope now is that his players are respected for being more than "just students".
He used Maciver-Redwood as an example. The big No. 10 held off Mulgrew, won flicks on and linked the play superbly for the visitors. "There are strikers in the Premier League who won't get as much joy as big Ben did today," said Geddes.
It was sweet to observe the students applauding their supporters afterwards – well, applauding their friends, relatives and, in many cases, classmates. Many were waving dinky little green flags handed out at the turnstiles before the match. Perhaps they should have left them for the group of fans who will be following them in these pews: Celtic.
What's next for the students, meanwhile, apart from a well-deserved night out? Geddes stressed that it's business as usual. Indeed, all that's changed is that they are now in seven competitions as opposed to eight, which was the case before kick-off.
Tranent Juniors' defeat to Celtic B means the students are three points off the Lowland League summit with two games in hand. Of more immediate concern is Nottingham Trent University on Wednesday. And then it's off to Dalbeattie Star next Saturday. "That's a wee bit of a mind shift," admitted Geddes.