Aberdeen announce partial Pittodrie capacity as club hope for fans at season start
800 tickets remain for Aberdeen fans to guarantee their seat for partial capacity
The club have announced that 6,700 season tickets have been sold for the 2019/20 Premiership season.
They are hopeful that come start of the campaign, fans will be in attendance with one metre physical distancing.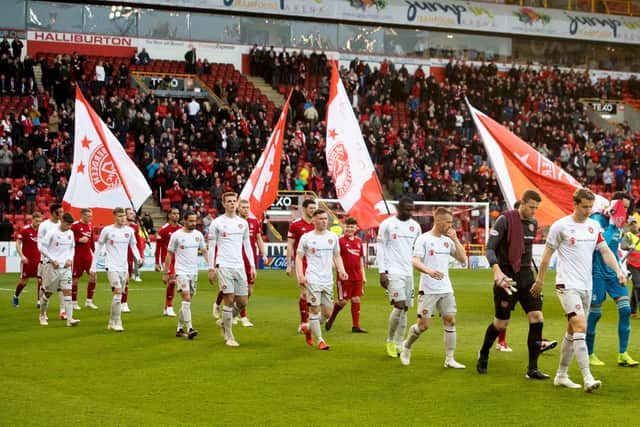 Conversely, Celtic chief Peter Lawwell revealed his hope that test events would at least be run in August for crowds to return.
Significant progress has been made however, following the initial view that fans may not be back until 2021.
Aberdeen have told fans that only 800 season tickets remain for fans to guarantee their seat when football returns with supporters.
"As we emerge from lockdown and restrictions are easing, the situation with regards to football is changing on an almost daily basis," the club said.
"With positive progress on the fight against COVID‐19, there may now only be a few home games behind closed doors, and we could get back to playing in front of partial crowds earlier than anticipated.
"AFC will, of course, be guided by Government advice and the guidelines from the footballing authorities.
"With the opening league game only four weeks away, we are now making preparations for matches at Pittodrie both behind closed doors and with a reduced capacity, initially allowing access for 7,500 season ticket holders, assuming one metre social distancing.
"The first 7,500 season ticket sales for the 20/21 season will be given priority for limited access games.
"With 6,700 season tickets already sold, there are only 800 remaining to make sure you can attend games with partial crowds.
"Should capacity end up being below 7,500 then priority points will be used as the fairest way to determine who gets access.
"For every season ticket sold after we've reached 7,500, the holder will be given priority as access is increased. This means that if, for example, you have season ticket sales number 7,501 you will have priority over someone who has the number 7,502 and so on.
"Essentially, above the first 7,500 season tickets sold, there will be a "first come, first served" system which we believe is the only fair and transparent way of dealing with what is an unprecedented set of circumstances.
"With the season kicking off in four weeks, the Club is working tirelessly to make all the necessary arrangements for both games behind closed doors and those with partial crowds.
"We've never had a situation like this before and it's clear this is going to be a logistical challenge for our ticket office. For example, having family members sitting together will help maximise access. At this time we ask for your understanding and your patience as we try to do our best to accommodate as many season ticket holders as possible.
"It's important to reinforce that virtual access to home games behind closed doors is included in your season ticket and that we are committed to offering full value for the 20/21 season."