The new deal covers Euro 2024, with qualifying beginning at a sold-out Hampden this afternoon against Cyprus, as well as the next World Cup, which is being held in Mexico, Canada and the United States in just over three years' time.
The players were informed of Clarke's decision at Lesser Hampden, their new pre-match training base. There was little ceremony involved. "He's not really one for rounds of applause," said Robertson. "It was a quick short speech from him and then on to the meeting we had planned. That's the gaffer for you!"
Robertson was more effusive on the subject. "It's great news for the whole of the country," he said. "I think Scotland fans have taken to the gaffer from day one. Yeah, we've had some tough moments but he's made massive improvements to the squad, massive improvements behind the scenes as well.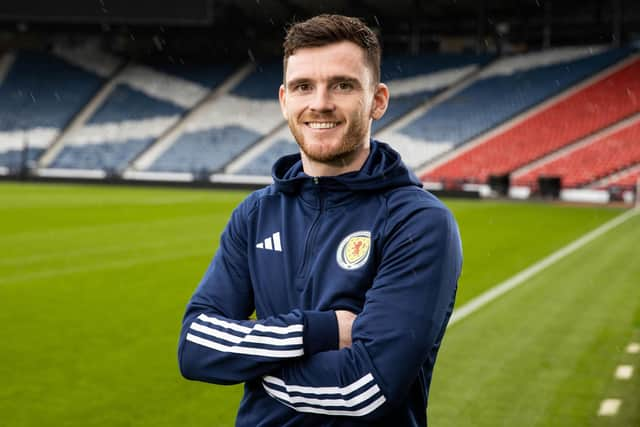 "We knew we had one more campaign with him but it's great to extend that to the next two. He believes he can take us even further and make more improvements still - and we believe that too. We've got another four years with him and we're looking forward to it.
"All the lads love him, we love his backroom staff too," he added. "We've created a really good atmosphere off the pitch and we all get on. When he told us he was extending his deal, you saw round the changing room how happy all the lads were."
Robertson praised Clarke for the synergy that has developed between the Tartan Army and the team. The supporters' faith was being severely tested as Scotland struggled and qualifying failure followed qualifying failure. Clarke broke this depressing trend at Euro 2021.
"He's set us up in a way that the players and the fans can have a relationship again," he said. "Before he came in again, the relationship was broken.
"I don't think there were many people excited to come to Hampden. That was proved with the attendances we've had. I've played here in terms of 10,000 or 12,000 fans for qualifying games.
"But the next two games and hopefully the whole campaign will show you (the difference)- we're expecting a full house (v Cyprus), and Tuesday (v Spain) is the same.
"As a player that makes a huge difference. Playing in front of a full Scotland crowd, knowing the pubs up and down the country will be full of people wanting to watch us. It just shows that the feel-good factor is back."
Robertson noted that players are now desperate to play for Scotland. Angus Gunn gave up ambitions of playing for England to jump on Clarke's bandwagon. The Norwich City 'keeper, who has played for England Under-21s, could be set to win his first cap this afternoon.
The skipper reported that Gunn had settled in quickly after some initial ribbing. "There might be a couple of jokes about how long it took him to commit! But we're happy that he's here now," smiled Robertson. "It helps that he's already played with a few guys in the squad.
"He's a big part of the group already and he's only been here less than a week."