'Not possible' - SPFL reject Steve Clarke's plea for blank weekend ahead of Scotland Euro play-off
League say there is already enormous pressure on fixture list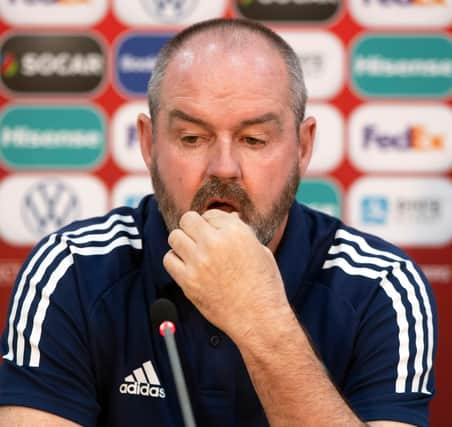 Scotland's Euro hopes have been dealt a blow by the SPFL, who have ruled out the possibility of leaving the Premiership fixture card free ahead of the vital play-off semi final against Israel at Hampden on 8 October.
Looking to guide Scotland into a major finals for the first time since France 98, national boss Steve Clarke had asked the league's governing body to give his players extra time to prepare for the vitally-important international fixture and then, if necessary, the play-off final, away to Norway or Serbia a month later.
But in a statement detailing the "enormous pressure" on the upcoming fixture calendar, which also has to cater for postponed, European, international and Scottish Cup fixtures, SPFL secretary Iain Blair explained they were not in a position to grant Clarke's request.
"We've been in discussion with the SFA. They understandably want to have the two rounds of matches postponed before the Nations League play-offs in early October and early November.
"If there was any slack at all in the schedule we would obviously be very keen to deliver that. Unfortunately it's simply not possible, given the restrictions we are working within."
But, while the Saturday before the key fixtures will not be cleared, Blair said he would endeavour to ensure that there will be no matches scheduled for the Sunday before the international head to heads.
"We have committed to liaising with Sky Sports to encourage them to avoid scheduling live matches on the Sunday before the Scotland games, unless that fixture has been shifted to the Sunday because of UEFA Europa League commitments the previous midweek."
Claiming that the upcoming season could be the most challenging yet for the fixture planners, Blair explained the league's stance.
"The stress on the SPFL fixture calendar next season is going to be enormous, with a real risk that some clubs will be forced to play four games in eight days, which we always try to avoid. And that's even before we consider the impact of the Scottish winter and the high risk of cancelled matches due to adverse weather.
"We have already been obliged to cancel the winter break next season because we absolutely needed those extra three potential match dates, but even with that, I think it is going to be tighter than at any time in my 22 years working for the SPFL."
Comments
 0 comments
Want to join the conversation? Please or to comment on this article.