Scotland 3-2 Israel: Scott McTominay scores in injury time to win it - how it happened
Steve Clarke leads Scotland into another vital international and it is a familiar foe – Israel – in wait at sold out Hampden.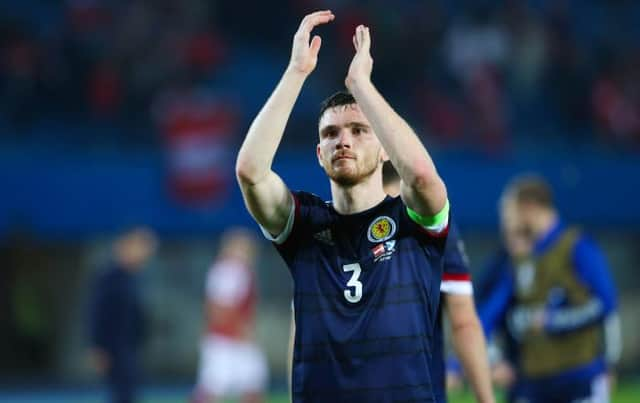 Last month's wins over Moldova and Austria not only ensured Scotland occupy second spot in the World Cup qualifying section and ruled Grant Hanley out through suspension, it also sparked a national ticket rush for this evening's match.
There's now no briefs left so the only way to keep up with the game for those not at the National Stadium in Mount Florida, is on TV, radio or here at The Scotsman's live blog.
We'll have all the info and pre-match build-up, team news, match action, reaction and analysis this afternoon, this evening and across the weekend.
Refresh for the latest updates as we follow the TENTH meeting with Israel and SEVENTH in three years – with a place at the World Cup in Qatar the eventual prize on the line.
Scotland 3-2 Israel: How it Happened
Show new updates
Scotland 3
McGinn 29, Dykes, 57, McTominay 90+3
Israel 2
Hello and welcome to The Scotsman's live coverage of this evening's vital (aren't they all?) World Cup qualifier between Scotland and Israel.
We'll have all the build-up, live updates and reaction across the afternoon, evening and weekend.
Familiar foes
Israel and Scotland had met just three times until 2018... since then there have been six games between the teams and tonight will be the SEVENTH in just three years.
Here's a look at the results between the Scotland men's team and Israel - and it's worth noting, Israel have NEVER won at Hampden.
March 28, 2021 Israel 1-1 Scotland
November 18, 2020 Israel 1-0 Scotland
October 8, 2020 Scotland 0-0 Israel (5-3 penalties)
September 4, 2020 Scotland 1-1 Israel
November 20, 2018 Scotland 3-2 Israel
October 11, 2018 Israel 2-1 Scotland
January 28, 1986 Israel 0-1 Scotland
April 28, 1986 Scotland 3-1 Israel
February 25, 1981 Israel 0-1 Scotland
Why it matters
Scotland are second in the group, by a point, ahead of today's visitors to a very, very wet Glasgow.
While it is not impossible to catch Denmark by the group mathematics, it's football and not probabilities we're playing so the race is really on for second place.
After this afternoon's game Israel head to bottom-side Moldova with a double-header waiting in November away to Austria and home to Faroe Islands.Scotland head away on Tuesday night too, to the Faroe Islands, and then have a tea-time kick-off in Moldova in November followed by the group closer against winners-in-waiting Denmark.
Therefore, the second-versus-third encounter has much riding on it ahead of the final three games, as the table shows.
Denmark Played – 6; Won 6; Drawn 0; Lost 0; Goals 22; Against 0; Points 18
Scotland Played – 6; Won 3; Drawn 2; Lost 1; Goals 9; Against 5; Points 11
Israel Played – 6; Won 3; Drawn 1; Lost 2; Goals 14; Against 11; Points 10
Austria Played – 6; Won 2; Drawn 1; Lost 3; Goals 9; Against 13; Points 7
Faroe Is Played – 6; Won 1; Drawn 1; Lost 4; Goals 4; Against 14; Points 4
Moldova Played – 6; Won 0; Drawn 1; Lost 5; Goals 3; Against 18; Points 1
How to watch
While you'll surely be joining us here on the blog throughout this afternoon and evening - the game is also on TV and radio if you do have to log off for a few minutes. You'll be able to catch up on all the posts when you return though and we'll ensure you don't miss anything...
Here's where the game is on, and how to watch for those times you're not joining us - CLICK HERE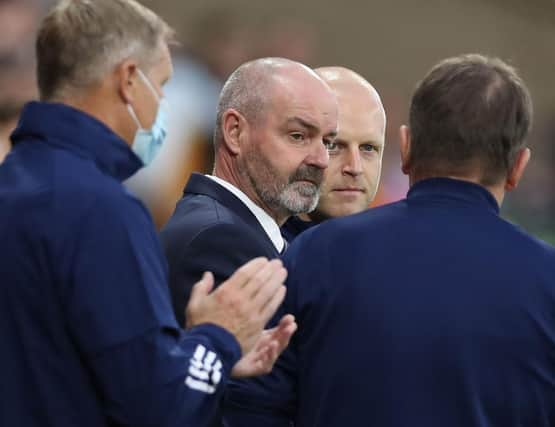 It's the penultimate Scotland World Cup qualifier at Hampden ahead of the Qatar 2022 extravaganza next year, and it's familiar opponents in the National Stadium's away dressing room – Israel.
Last time out
This is the 10th time the teams have played in history and the second in this World Cup qualifying section - here's how the first one went, back in March.
Unhandled: video-youtube
⏰ Half an hour... 📋
This is the first of several alarm calls today - it's half an hour until Steve Clarke's team news will be revealed. We expect to learn his line-up around 3.45pm.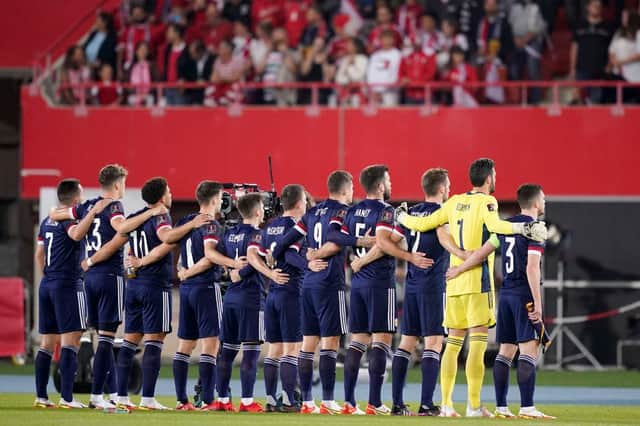 Steve Clarke has a key team-selection decision to make when Israel visit Hampden on Saturday evening.
The team news we are guaranteed is that Grant Hanley - a defensive stalwart under Steve Clarke - is suspended after picking up two bookings.
There are three bookings permitted in Champions League group sections but in the international groups? Two rule you out. Scotland coach John Carver questioned the difference earlier this week.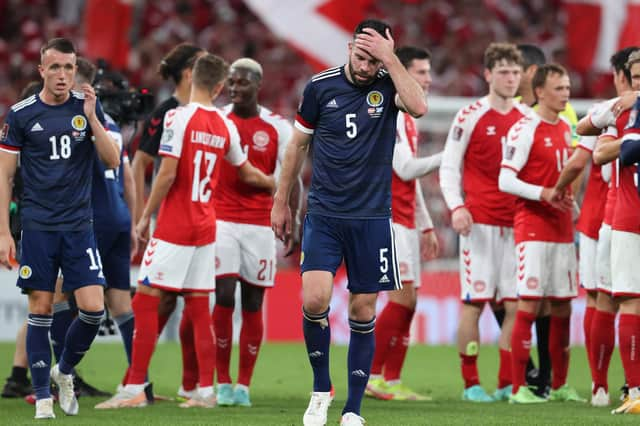 John Carver has criticised the suspension rule which means Scotland must cope without defensive mainstay Grant Hanley in Saturday's crucial clash against Israel.
World Cup at 40?
Another piece of team news unlikely to split opinion is Craig Gordon starting in goals - and he has a point to prove.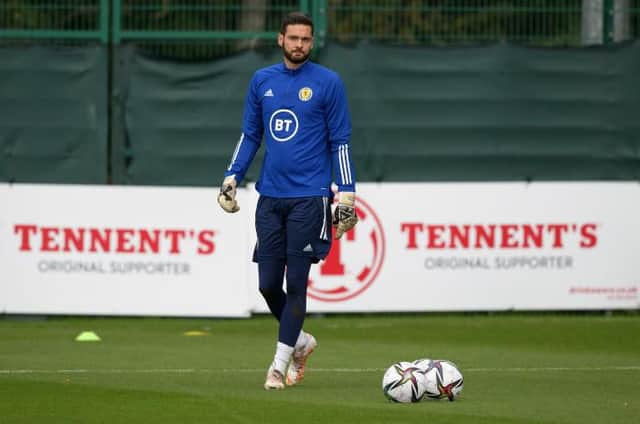 Craig Gordon is becoming accustomed to feeling like a father figure in the Scotland squad.
As promised, half an hour ago here's the team....