"We had to give the fans something to cheer about, whether it finished nil-nil, we had to get them off their seats," said McPake. "It was the biggest crowd in a decade in here and the players deserve all the credit for that. Even when it's four or five thousand in here, they come every week because they know those players give everything on the pitch and keep going to the end, even when they're down in games.
"The players had to come in last season on a bit of a downer. A lot of them are still here, so to pick themselves up so quickly is fantastic. They give everything for this football club and that's why the fans are coming back in. We know we need to keep doing that and we hope to get big crowds in. That's excellent, it's great to manage in and coach in. You wish you were playing, actually. That's when you miss playing more, with big crowds and under the lights. Tonight's a great three points. The gap is what it is. It could have been two tonight but it could be 11 by Saturday. Standing in front of us is Peterhead. We'll enjoy this and then recover."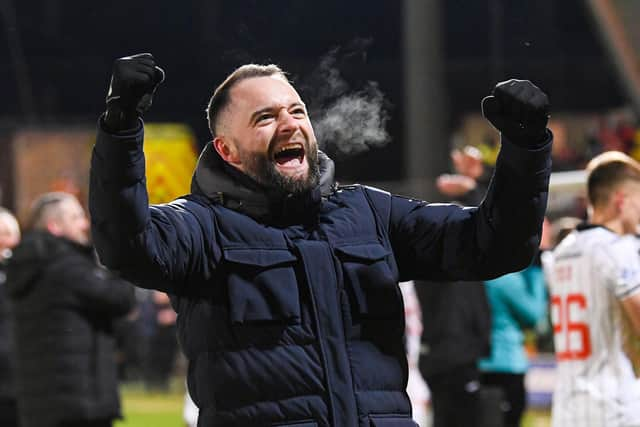 On the match itself, McPake commented. "Overall we got a wee bit caught in between in the first half – where we should press, where we should allow them to have the ball, without really getting hurt in the first half. I wouldn't say we were overly happy, the players weren't overly happy. It wasn't a case of going in and going mad. It was just telling them to play with a bit of freedom and go and get after them, because when we do that we know that we can affect them.
"Second half, we were excellent. It only counts how many goals you score. We won on corners as well, that's a double then. Because of the atmosphere, we had to come out and we had to have a go at them. First half, it's a bit of a boring game, the only real bit in the game is Chris Mochrie's shot. The only bit that got our fans excited. Second half was much better, much more like us and it's a good three points."
Falkirk manager John McGlynn accepted that his team were second best over the 90 minutes despite a promising opening period. "I thought we were the better side in the first half," said McGlynn. "We controlled the first half without creating a hell of a lot. I thought we were on top. However, we've not started the second half well, we gave them the initiative and once their tails are up, they pushed for a second goal, which they got. And then it was quite difficult after that. On our second-half performance, we've not done enough to take anything from the game and we've just got to accept that Dunfermline deserved to win on the night over the 90 minutes.
"I've got to be disappointed that we didn't get much of a reaction. But our guys have done a hell of a lot, I'm not going to throw them under a bus. We'd taken 24 points out of 24 and now it's 24 out of 27. For us, we move on, we've got a Scottish Cup quarter-final coming up. We're not throwing away our season based on this tonight. We know we have to dust ourselves down for Monday night [against Ayr United]. Every game since the turn of the year has been a big one. On merit, we've got ourselves to a Scottish Cup quarter-final. Our season has got a long way to go and we want to continue that. We're not going to crucify ourselves based on tonight. We're disappointed, but we've got a long way to go."