Jamie MacDonald's Hampden joy with Hearts, Falkirk tears - and what Hibs-daft wife made him do after 5-1 final
Last weekend's Scottish Cup semi-final between ex-club Falkirk and Inverness Caledonian Thistle brought back unpleasant memories for Raith Rovers goalkeeper Jamie MacDonald, as the Hampden reunion came eight years after MacDonald's calamitous error saw him spill an 86th-minute Marley Watkins shot before James Vincent netted the rebound to seal a 2-1 Scottish Cup final win for John Hughes' Caley over Peter Houston's Bairns, writes Aidan Smith.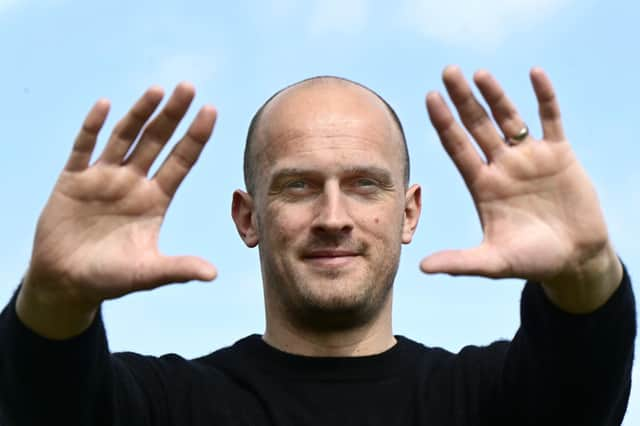 Every time the veteran goalie has turned on the TV he's had to relive his worst moment in football, the mistake which gifted Inverness Caley Thistle the Scottish Cup against Falkirk. "It still bothers me," he says, "and obviously right now I can't really get away from it."
What the footage doesn't show is the immediate aftermath, when MacDonald's wife Roxzannah brought their daughter Darragh, then two, onto the pitch to console him. "I was sitting on the grass crying. Ever since, when I think about the goal, Roxzannah says I'm too hard on myself. But context is everything … "
The context was this: 2015 with the Old Firm nowhere to be seen was a once-in-a-generation opportunity for the two clubs, and in ICT's case, first-time-in-history. The lunchtime re-match is a semi-final. There will be new heroes but hopefully, says MacDonald, no new villain.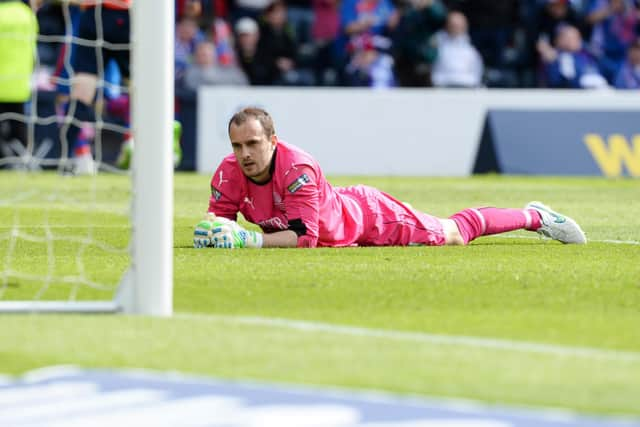 Some context needs to be added to my chat with the keeper, however, for I do not meet a haunted man. MacDonald, 37, has plenty of funny stories to tell from his long career - 500 games and counting - and he reveals that leavened with footage of his fumble these past few days there have been reminders of his greatest moment.
He's a Jambo legend for Hearts' mauling of Hibernian to hoist the cup in 2012. I've chosen the quietest corner of the Toby Carvery near his home in Edinburgh's Davidson's Mains so that we're not pestered by fans flashing the 5-1 hand-sign. It was much in evidence, though, when MacDonald guested at a player-of-the-year function at Tynecastle on Sunday, also the following day among victims of dementia at a get-together organised by the Big Hearts Community Trust. Some matches, it seems, will never be forgotten, even among those whose memory is not what it was.
I tell him my aversion to the hand-sign is like Dracula's when confronted by the cross. "Well, " he says, "you should know that my wife's a Hibby, my kids support them because of her and my father-in-law is a season-ticket holder. Roxzannah is actually Derek Riordan's cousin. When we first got together I don't think her family liked me very much. After that final, when admittedly I didn't get home until 3am, half-cut, she made me sleep on the couch!"
Bathgate boy MacDonald has been 20 years between the sticks and at Raith Rovers is enjoying the gig as much as he's ever done. He'd like to carry on until he's 40, reach 600 games. That would be a fine achievement for someone who, when he revealed his preferred career to the high school guidance teacher, it was greeted with a snort: "Yes, but what do you really intend doing with your life?"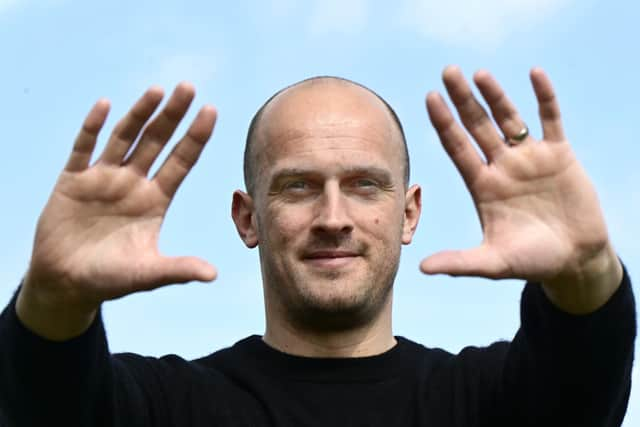 It was an achievement just observing the Vladimir Romanov revolution at Tynecastle, and for him there were frustrations. "I did a lot of hanging about. Lots of reserve football, lots of under-19s, the promise of a wee chance, then nothing. Obviously Craig [Gordon] was the main man. I wanted to go out on loan but was always kept back. The goalies who were brought into the club never seemed to do that well so I was needed for third-choice back-up."
But he did get the opportunity of first-team football at Queen of the South and in 2007-08 helped the Doonhamers reach their first-ever Scottish Cup final. "That was amazing, the whole run. In the quarter-finals against Dundee Ryan McCann scored from 75 yards when their goalie came up for a corner. Thankfully I've never been caught out like that. Aberdeen in the semis - 4-3 - was the basketball game. Incredible. Then in the final a fantastic effort against Rangers to come back from two down only for Boydy [Kris Boyd] to grab the winner."
He went back to Hearts hoping to build on that experience but it was all too easy for players to get lost. "Madness" is his one-word summation of the Romanov reign, although he admits this was a view from afar. Rather than a member of the dissenting Riccarton Three he belonged to the 73. "At one point we had 80 players - an incredible number. Those outwith the first team had to use the public changing-rooms." The closest he got to Romanov was when Vlad the Mad would stride onto the training field and, in his boots, demand a shot at penalty kicks. "That was tricky. Did I save them hoping to impress him? Or let them in to suck up to him?"
At the moment of greatest Jambo excess, pound coins may have been required for the lockers, but a far darker financial cloud was about to descend. "Turmoil" is how MacDonald describes 2011-12, though the campaign would end in triumph.
"That was a tough season. There was a lot going on off the pitch and players weren't getting paid. But we had a good group and everyone stuck together. Our league form wasn't great and we only sneaked into the top six. But we won all the derbies and reckoned we had Hibs' number.
"I didn't start the season; Marian Kello did. Then in the January window there was good interest in him. Romanov wanted Marian to move to get in some money as he was going to be out of contract come the summer. But nothing happened so Romanov binned him. That's how I got into the team.
I'd rather I'd have done it on merit. Maybe I'm too nice for my own good but I felt guilty and bad for Marian who deserved to be No 1. What a crazy season.
The final? "It was the most nervous I'd been before any game. Being an all-Edinburgh affair it would go one of two ways. Either we were going to be one of the most loved teams in Hearts' history or, for allowing Hibs to smash their 1902 hoodoo, the most hated. Thankfully it worked out for us.
"Although we'd had an up and down season we had guys in the team - Ian Black and those who came through the youths like Andy Driver, Ryan McGowan and myself, who understood the importance of the derby. Did all the loan players in the Hibs team that day? We heard little whispers that things were not harmonious.
"I'd be lying if I said I didn't have an easy game. I don't remember having to make a single proper save but I still get slaughtered for letting them score one. During Covid the club organised a playback on Zoom with a few of us talking fans through the game. When it came to their goal the rest of them were like: 'You had one thing to do … '!"
As a Jambo MacDonald enjoyed a taste of Europe, albeit against English opposition. At the beginning of the cup season, Tottenham Hotspur five-nil up from Tynecastle, he was given the dead rubber in London where, on Harry Kane's Spurs debut, he downed the future England captain in the box. Kane contrives a few of his penalties but this was one, only MacDonald saved his effort. "For ages, the stat I liked from that game was it would be the only time in the season when a team left White Hart Lane with a clean sheet. But then my kids were Goggling me and found highlights. They came rushing up: 'Dad, dad - did you know that you once saved a Harry Kane penalty?' So that's what I'm famous for now!" MacDonald is a dad of four, Jambo fate playing a hand in he and Roxzannah getting together. "If Lee Wallace hadn't had his nightclub ban, and a few of us at the end of a season hadn't gone to this hotel to keep him company, I'd never have met my wife."
The cup triumph then brought him the chance to play in front of Liverpool's Kop. "Craig [Gordon] told me: 'They appreciate goalies and will applaud you so make sure you give it back.' I thought he was winding me up, that I'd clap and end up looking like a plonker. But the reception was tremendous, I'll never forget it."
I ask MacDonald for his best-ever save. "Can I have two? The most important was stopping a penalty from [St Mirren's] Graham Carey earlier in the cup run with the score at nil-nil. The most aesthetically-pleasing was against Hibs in the League Cup the following year. Scott Robertson hit a half-volley through one of our guy's legs and I was able to touch it onto the bar. We won the game with a 35-yard Ryan Stevenson wonder goal and that was the end for [Hibees boss] Pat Fenlon."
But 2013-14 would be his final season at Tynecastle with yet more financial strife, players asked to take wage cuts, a points deduction and ultimately relegation. MacDonald willingly played for less money and insists he'd wanted to stay, scotching the suggestion he'd resisted another reduction in pay as the club slashed costs. "That was a horrible time. Everyone was going to find out their fate on what got called Budgement Day [after club owner Ann]. I thought I'd be okay as the double player of the year, fans and players, but [director of football] Craig Levein said: 'We're letting you go.' I was devastated, maybe saw myself as being a one-club man, but I don't know if the decision was purely down to finance because I reckon Neil Alexander would have come in for more money. Perhaps I just wasn't Craig's cup of tea."
MacDonald admits his solitary season at Falkirk was not one of his best. "I wouldn't say what happened at Hearts destroyed me but it certainly dented my confidence. My form was erratic. In that final against Inverness, at 1-1 they were down to ten men and we were looking the more likely winners. The shot [from Marley Watkins] wasn't the hardest but I went to catch it rather than put it behind for a corner so I could get the ball back upfield quickly for another attack. It was a hot day, the pitch was sticky and there was a bobble. The rest [James Vincent netting from the spill] is history. It was total dejection. I apologised to the rest of the team afterwards and no one blamed me but my mistake had cost them the cup."
The following season MacDonald moved to Kilmarnock, rediscovered his form and 12 months after Hampden - because football occasionally throws up such awkward reunions - he was facing Falkirk in the final of the Premiership Playoffs. "When I left their fans probably saw me as jumping ship. I felt guilty going back for the first leg because I was there to stop their team getting promoted. I got plenty of abuse and there was more when I went there with Raith last season."
Killie overcame a one-goal deficit to win comfortably. Between the games Hibs finally won the Scottish Cup, so how did he feel? "That was a training day for us, although all we did was walk along the beach at Troon eating bacon and egg rolls, but I caught the last 15 minutes. Truthfully, it was brilliant. Some Hearts fans would have been raging, probably the same ones who never really forgave Robbie [Neilson, the manager, when the Hibees beat their old rivals en route to glory] and the guys who chased him away recently, but I just thought: we've had our fun at Hibs' expense and they've suffered enough."
Who'd be a goalkeeper? It's a lonely existence, mistakes invariably end up being the most costly and their place of work is closest to the unforgiving rabble - but MacDonald's oldest son Noah, a Spartans kid, seems keen to don the gloves. His dad still gets it in the neck from Falkirk supporters but some of the quippery can also be amusing and, when it is, MacDonald likes to join in the banter. "Some fans shouted 'Baldy!' at me before I started losing my hair, which was a bit depressing, but I had to laugh at Ibrox one day when this lad, maybe eight or nine, piped up: 'Hey MacDonald, somebody's taken a divot oot o' yer heid!'
The derby was never less than lively, often hectic, now and again mental. "My favourite one, apart from the obvious, was the 'relegation party' when Hibs came to Tynecastle intending to put us down [in 2014, only for them to lose and be relegated along with their dear, diabolical neighbours]. The abuse was relentless and I had everything thrown at me: coins, sweets, lighters, golf balls, seats which had been ripped out, a drumstick - and best of all, a shoe. Not an old gutty, mind you, but an Adidas Gazelle. I picked it up and sniffed it, which got a laugh, but imagine what that guy thought the second after he'd chucked it: 'S***, now I'm going to have to hobble home … '!"
Comments
 0 comments
Want to join the conversation? Please or to comment on this article.