John Hansen on brother Alan's success, Partick Thistle's 1971 cup win and playing against Brazil
Former Scotland player reflects on the glory days at Firhill and his big regret that it all ended too soon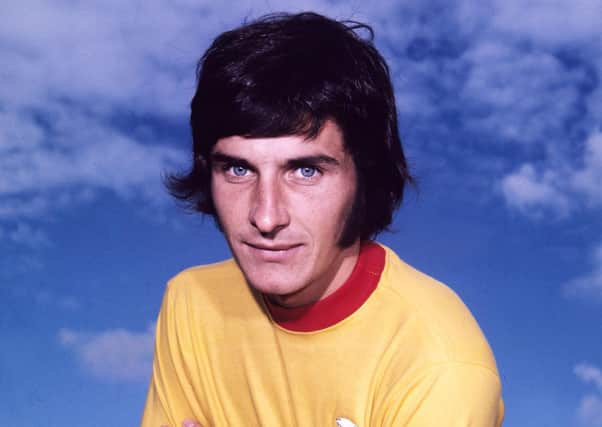 There is, says the elder
of the footballing Hansen brothers, one big difference between them. "Alan regrets nothing," says John. "He walked away from playing the game with no regrets and then he walked away from TV with no regrets. Me, I've regretted every day since I hung up my boots and that was 43 years ago."
They were team-mates at Partick Thistle although different then, too, as the senior man illustrates by recalling a brass-monkey afternoon at St Mirren's old Love Street: "The ball came to Alan in our box and 
he beat two men, sauntered about a bit and then passed it to me. I was standing on our goal line with three guys round me! I managed to find the terracing with my clearance and said to him: 'You idiot, don't ever do that again'. He shrugged and said: 'Ach, all you had to do was go on a wee dribble'. Well, that was easy for him…"
Both were destined for greatness. John had already been capped by Scotland and Alan would follow him into the national team later. Both were set for a dream move to one of the great clubs of England but only Alan made the leap, John's career being cruelly ended by injury.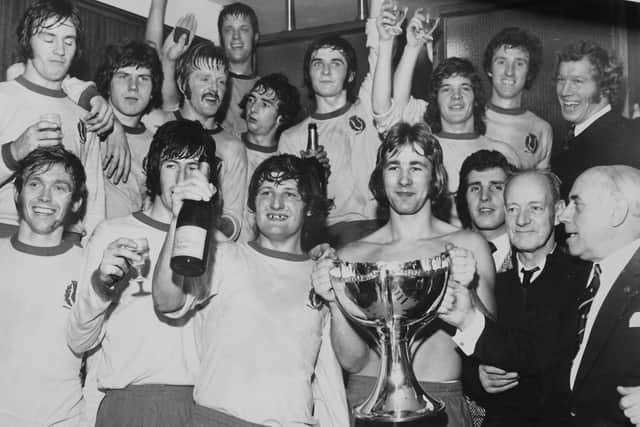 This won't be a mournful tale, however. It may be a mournful time in the history of the Jags with them plunging down a division in the wake of Covid blowing up the season, but the senior Hansen can transport us back to a kinder, happier, successful, dafter, joyful age for the club. He is after all a Sizzle immortal for his part in the fantasmagorical League Cup triumph over Celtic.
And above all it is a tale of brotherly love and how, in winning three European Cups and eight league championships with Liverpool then becoming the preeminent pundit on television, Alan couldn't have had a more fanatical and proud cheerleader than John.
In their native Sauchie, Clackmannanshire, both Hansens were smart enough to have been the first in the family to go to university and their parents John, a lorry driver, and Annie, who worked in the Co-op, would have been thrilled at that. Says our man when I catch up with him in Godalming, Surrey, where he has lived for the past 30 years: "My mum's favourite photograph – nothing to do with football – was Alan, our sister
Maureen and me with our school prizes – we were all dux of the town primary. And she was delighted that Maureen did go to uni."
For John Jnr there was only one ambition. "I was good at Latin and Greek but besotted with football. It certainly wasn't going to be rugby, which I had to play at Alloa Academy.
The headmaster, A. I. Dickie, was an international rugby ref, and I can still hear him screaming at me to fall on the ball and take my punishment. I was stand-off behind a slow scrum-half so the opposition forwards were always right on top of me." And John Snr couldn't have complained at his son's career choice with him having been a centre-half with Camelon Juniors.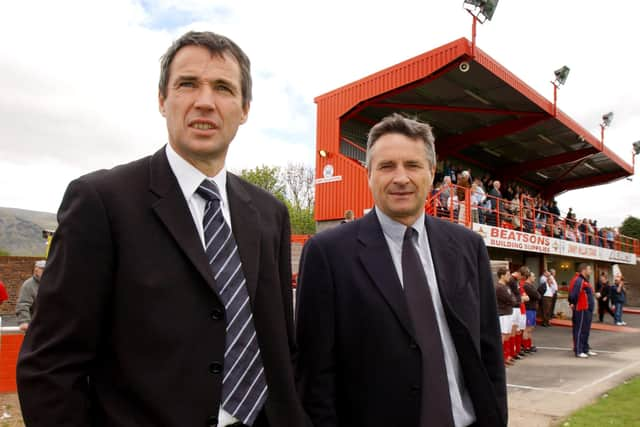 For Alan originally the ambition had been golf. "He played football for Sauchie Juveniles, like I'd done, but on matchdays the team would have to hope he was on the 17th tee at Schawpark, which you could see from the pitch, to be able to bring him on as a second-half sub."
I relate a story Alan once told me about being the annoying little
brother on the golf course. "It's true. When I was ten and he was five he'd try to follow me and my pals around. I got so annoyed I threw him in a bunker. This bloke stormed down from the next tee to tick me off and I uttered the immortal line: 'It's okay, mister, he's my wee brother'.
"I was happy playing Alan at football at that time because I could beat him but it wasn't so long after that, when he was seven or eight, that I couldn't get the ball off him. He was just too good." Hansen, possibly
realising he'd have to work harder to achieve the dream, did just that. "I read how this old Motherwell player, a real hard man, swore by two raw eggs for breakfast every day. I tried it, hated it, but persevered for six months." He turned out for Sauchie Juniors, trapped a high ball on his chest, causing the coach to explode: "What do you think you are – f****n' Brazilian?" Little did this grump know that a few years later Hansen would make it all the way to the Maracana.
First, Aberdeen invited him for a month's trial. "That didn't go too well. There were luma salts in the bath. I forgot I was supposed to keep my head out of the water and ended up being poisoned behind the eardrum. I was in hospital for two weeks." 
Willie Thornton signed him for Thistle in 1967, his last act as manager. "Then came Scot Symon, a gentleman. You couldn't imagine him managing Rangers because he was so quiet and well-mannered." Then it was Dave McParland.
"I fancied playing midfield and told Dave this. He said: 'You're not intelligent enough'. I said: 'But I've got all these Highers'. 'Not scholastic intelligence,' he said, 'I'm talking about football intelligence. Stick to full-back – you don't have to be too bright out there'. That was another difference between Alan and me, I suppose. When we watched Thistle
as kids and they were losing three-nil my analysis would have been: 'They're getting beat three-nil because the other team have scored three goals'. Even as a lad he had a very good football brain. I reckon he could have been a great manager. He never wanted to do that but he did become a great pundit." Just like when he was done playing, though, Alan's decision to quit TV with the BBC has been final. "I know he's had offers to return. His daughter Lucy is his quasi-agent and she gets them all the time. But he loves being around his five grandchildren and of course he still loves his golf."
The season before that astonishing 4-1 Hampden victory over Jock Stein's Celtic in 1971, Firhill's thrills were of the second-tier variety and Hansen often turned out in the Combination Reserve League. "We'd play Glasgow Police and Glasgow Transport on corporation parks and they'd kick us to buggery. I remember a game against Rangers when the heavens opened and everyone not playing ran to the hut for shelter.
Alex Ferguson had been made to watch the reserves – Rangers were trying to force him out of the club. The manager said: 'Not you. You're staying to watch'."
So to the Jags' greatest day. I sense that Hansen will never get fed up talking about it and, really, why should he? "Footballers have Maseratis now – good luck to them," he says. "Do you know how I got to Hampden? My wife Sandra and I were living with her parents in Tullibody and saving up for a house so it was a bus from there to Stirling, a train to Glasgow and another bus to Firhill for the team coach."
On the Beeb's Grandstand Sam Leitch confidently informed Football Focus viewers that Thistle had no chance. Reading out the half-times Frank Bough was convinced that four-nil to the team some considered an – affectionately-delivered – music-hall joke was a mistake and promised to correct it.
"It's a cliche, I know, but Thistle
were eccentric, no doubt about that. Earlier that season we thrashed Motherwell 7-2 and were thrashed ourselves, 8-3 by Aberdeen. Brilliant one week, terrible the next." Celtic in '71 were mostly brilliant. Among their many weapons were Tommy Gemmell's shooting and Jimmy Johnstone's dribbling but on that day Hansen was able to stop a Big Tam thundercrack with his nose and, although dazed, kept Wee Jinky subdued.
"Jimmy was a lovely guy. Generally in my day if a winger took the mickey the full-back sorted him out but when he came back to beat me a second or third time, saying 'Go on, John, have another turn', I couldn't bring myself to kick him." Boldly, Thistle played two wingers – Bobby Lawrie and Denis McQuade, who both scored. The latter went to uni so maybe it's just as well that Hansen didn't – two graduates in the one team would be too eccentric, even for Thistle.
"At half-time our fans were silent," he continues. "They expected Celtic to roar back at us and so did we. They only started singing with ten minutes left. Afterwards, the team coach drove back to Firhill, STV on board, but no one had a key for the ground – typical Thistle! I still wind up Sandra about her reaction to the result: not 'Well done' but 'What's the bonus?' I think it was £300. We bought a washing machine and a fridge. To be fair she congratulated me later."
Sixteen-year-old Alan watched in wonder from the Hampden stand. "Up until that moment he wanted to be a golfer but as I was coming off the pitch I caught sight of him and he'd never looked more excited. That was when he decided: 'I'm going to try football'."
Legend has it – this yarn told me by McQuade, in fact – that when McParland was sweet-talking the Hansen boys' mother to secure Alan's signature and had asked what "made him tick", she replied: "I'll tell you what doesn't – his paper round." The manager vowed that if he joined Thistle he'd never have to get up at 5:30 again.
Unsurprisingly, John has a paper-round story of his own. The Sunday after his debut for Thistle in a win at Aberdeen while still a schoolboy, he was back on the delivery run. Did he sneak a peek at his match report? "Yes, and the headline was the old faithful, 'A star is born'."
Maybe he didn't feel like one then – "Next game I was dropped" – but only two weeks after the cup success he was on the touchline at the same Pittodrie during a Euros qualifier against Belgium, Tommy Docherty poised to award him a first cap. "It didn't happen just then. Billy Bremner shouted to the Doc 'Not right now', which tells you about his influence. I got on later."
An eccentric – what else? – tour concluded that incredible season with Thistle billed as "Scotland" for a friendly against Romania in 
Bangkok. "There were 40,000 in the stadium. The heat was so intense the game was played at walking pace." Also on the itinerary: Malaysia and Greece.
Unfortunately Hansen was beginning to be dogged by cartilage and cruciate injuries but in June 1972 with Scotland invited to play in Brazil's Independence Cup, Docherty told him: "Son, if you can walk on to the plane I'll take you.'
"I was thrilled about that. We touched down in Rio in our Scotland blazers and there were three pipers on the tarmac to greet us. Winning the cup was great but I'm old-school and country will always top club. That moment, in the home of the world champions, was my all-time greatest." For the Thistle contingent – Jimmy Bone, Alan Rough and Alex Forsyth were also on the trip – the sublime would immediately be followed by the ridiculous: "Lou Macari asked if we'd take a load of cigars through customs for him. We were new and eager to impress but we got stopped. The incident made the papers, although it obviously wasn't as serious as Bobby Moore being accused of stealing that 
bracelet.
"The tournament was celebrating
the 150th anniversary of Brazil's independence and billed as a mini-World Cup. It was big-time with Denis Law getting breakfast in bed every morning, served by the physio. We played a great 2-2 draw against Yugoslavia although their fabulous winger [Dragan] Dzajic sold me so many dummies I had to pay my way back in 13 times. Then with the Maracana half-empty – only 100,000 watching – we needed a point against Brazil to reach the final only for Jairzinho to score late. At the end of any trip it was customary for the SFA top brass and their wives to have their bags put on the bus by the players but the Doc put a stop to that. It was a real pity that Scotland didn't have him as boss for longer."
Alan made his Jags debut the 
following year and, Thistle being Thistle, the dressing-room initiation was a bit more imaginative than shoes nailed to the floor. "Mine had come when I went from school to our centre-half Bill Taylor's house in 
Stirling to get a lift to my first training session. The next day there was a bit of a kangaroo court with our physio as the judge: 'Bill says that he found you in bed with his wife'. It was a wind-up but I was awfully embarrassed. Alan hoped I'd protect him from such nonsense but I couldn't. He had to perform this test of his extra sensory perception to show good balance where he was left, 
eyes closed, waving a hand up and down, counting each movement with everyone having sneaked away. Alan then copied the stunt in 
the loos of a Falkirk nightclub, 
this idiot friend of ours getting up 
to 175."
The Hansens had two great years together in the red and yellow though Bertie Auld's reign was problematic. "Alan hated him, and the rest of us weren't too thrilled when at training he made us play against invisible opponents. We were relegated but came straight back up and were due a bonus. Bertie said we weren't so we went on strike. He tried to get the reserves on to the bus for a game at Brechin but big Jackie Campbell blocked a doorway. Bertie relented, said we'd get our money, but on the journey we were frozen because he wouldn't let the driver turn on the heaters. During the game he was actually shouting for Brechin: 'Get into these b******s!' And on the way back he wouldn't let us stop for fish and chips!"
Alan's departure for Anfield 
was soon followed by our man's retirement.
"After professional I would have played seniors, veterans, anything I could because I loved the game so much. That broke my heart." There was no time for moping, though, for this dad-of-two had mouths to feed. He joined Abbey National, rising to the rank of regional manager, 
running 200 branches and keeping offices open during Northern 
Ireland's Troubles, despite bombings and one of his cashiers being kidnapped.
And, it goes without saying, he loved watching his wee brother win all those glittering prizes. "Did I ever see Alan finish a game with mud on his shorts? No. I don't know how he did that. Well, I do: he was brilliant." The Hansens speak to each other
every week, meet up in London where Southport-based Alan has a flat and right about now would have been at their annual Sauchie reunion with old mates if the pandemic hadn't put paid to the golfing 
weekend.
"It's the same guys telling the same stories every year," laughs John. "One time we were in a pub in Tullibody and the barmaid only wanted to talk to our pal Poge because he'd played for Sauchie Juniors – she wasn't remotely interested in the two Scotland internationalists. The good thing about missing our trip is not having to listen to him boasting about that!"
A message from the Editor:
Thank you for reading this story on our website. While I have your attention, I also have an important request to make of you.
With the coronavirus lockdown having a major impact on many of our advertisers - and consequently the revenue we receive - we are more reliant than ever on you taking out a digital subscription.
Subscribe to scotsman.com and enjoy unlimited access to Scottish news and information online and on our app. With a digital subscription, you can read more than 5 articles, see fewer ads, enjoy faster load times, and get access to exclusive newsletters and content. Visit https://www.scotsman.com/subscriptions now to sign up.
Our journalism costs money and we rely on advertising, print and digital revenues to help to support them. By supporting us, we are able to support you in providing trusted, fact-checked content for this website.
Comments
 0 comments
Want to join the conversation? Please or to comment on this article.