Kyle Lafferty: Why 'obsession' with former Kilmarnock, Rangers and Hearts striker has to end
Kilmarnock boss Derek McInnes insists the "obsession" with Kyle Lafferty has to be over as he gets on with life without the Northern Ireland international.
The 35-year-old striker made a surprise exit from the Rugby Park club on transfer deadline day. Lafferty had recently returned from a 10-game ban imposed by the Scottish Football Association for making a sectarian comment on a night out, which was filmed and uploaded on social media. The former Rangers, Burnley and Sunderland attacker was later followed out of the club by attacker Oli Shaw, who was sold to Barnsley for an undisclosed fee, leaving Killie short of attacking options.
Ahead of the trip to Livingston on Saturday, McInnes said: "It was between the club and Kyle, I have said that enough. It wasn't something we were anticipating. We were trying to get one or two in, I wasn't expecting anyone to leave so the timing of that as a manager is disappointing. But I respect what's happened, the decision has been made and we move on.
"There can't be – I think there is this obsession with Kyle Lafferty, listen, it is done. He had a 10-game ban so we didn't really have his services a lot of the time this season anyway and we now need to continue. I wish Kyle well, I really like him, I am really fond of him and I will continue to keep in touch with him but his career is with someone else and I need to focus on Kilmarnock and the challenges we've got."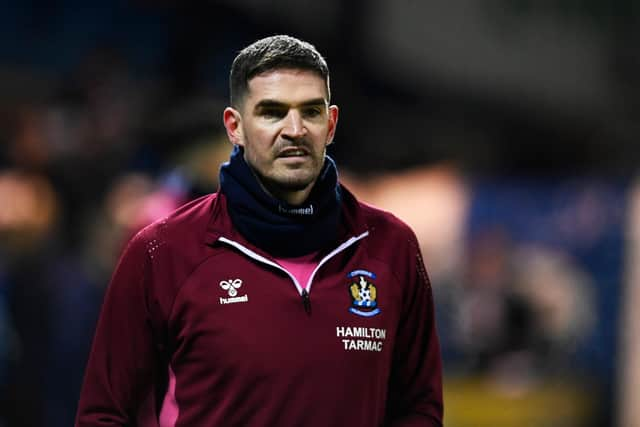 McInnes explained Shaw's sale had already been signed off before news of Lafferty's departure emerged. He said: "In the context, I wouldn't have allowed Oli Shaw to go to Barnsley last week. It wasn't announced until Monday at the request of Barnsley. So it looked a bit strange and supporters can maybe raise their expectations, seeing Kyle and Oli leaving, thinking there must be something coming in. That is natural to think that. The Kyle thing was unfortunate, the timing of it all, and we move on from it. Oli could have signed a pre-contract with another club and seen his contract out. But it was a good opportunity for Oli as he hadn't really been playing regularly. It was something he was keen on and it allowed us to bring some money in but if we had known what was happening beyond that, we wouldn't have done that deal."
McInnes brought in 18-year-old Liverpool left-back Luke Chambers on loan on Monday and he made his debut in the 1-0 win over Dundee United on Wednesday where he set up Danny Armstrong for the winner. Chambers was initially reluctant to leave his "comfort zone" of under-21s football but took the plunge with the backing of Scotland skipper and Kop team-mate Andy Robertson.
He said: "I spoke to Robbo. I train with the first team quite a lot so I look up to him. He is one of the best left-backs in the last five years. He has been a role model to me and with what he has done, all I can do is look up to him and try to learn as much as I can. He gave me a ring and told me to get as much experience as I can out of it, enjoy winning three points and getting a clean sheet and where three points actually mean something to you and playing in front of the fans, and when you go away the away fans giving you stick. He said it will be a good experience for me."