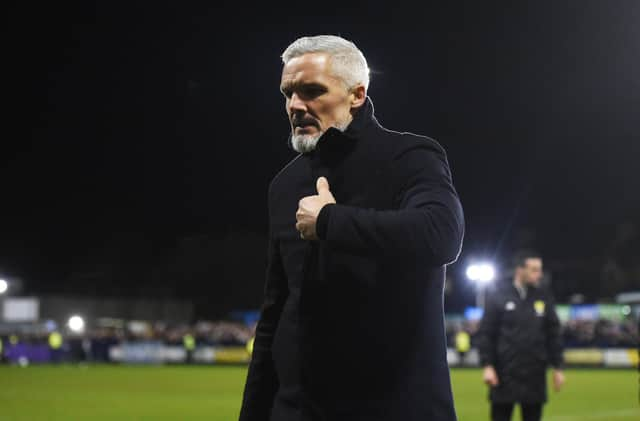 "Nobody has assurances from anyone," Goodwin said when asked if he could ride out a result that will scar his record, and his current club, for all days. "As a manager, especially at a club the size of Aberdeen, you need to win games of football and we have been out of form since the World Cup break; it hasn't been good enough. This is an extremely difficult result for me to take. It was a really poor performance that lacked any urgency and creativity. We'll need to do a bit of assessing later on. We'll speak to who we need to speak to tomorrow and have a meeting with the players and we will try and come out fighting for Easter Road."
The later reference to being in charge for Saturday's trip to a Hibs mired in their own soul searching over a shocking spell, felt the utterances of a manager feeling required to go through the motions. The fact his Aberdeen team seem to be trapped permanently going through the motions without snap or spark is surely deathly for his job prospects. Only ast Wednesday, with a 5-0 horsing by Hearts, was Goodwin forced into the exact same self-flagellation he was again driven to in Darvel.
"The last two results have been extremely disappointing," he said. "To get turned over by a junior team is embarrassing and humiliating for everyone connected to the club. I can only apologise, and speak on behalf of everyone that we are extremely embarrassed. We gave away a soft goal which sums up our defending this season. I am standing here out of the cup after wanting to repeat what we did in the League Cup. We didn't do that and I apologise to all the travelling fans. We need to do better.
"I do believe I can turn it around, absolutely. We are going through a difficult period but I have confidence in the squad. We have to stick together and we have to keep fighting. I could stand here and talk about how bad we were as a team but I think that would be doing a disservice to Darvel. I thought they thoroughly deserved their victory.
We weren't at it for whatever reason. We were very flat and we didn't have any cutting edge in the final third. Darvel got their noses in front and defended for their lives."