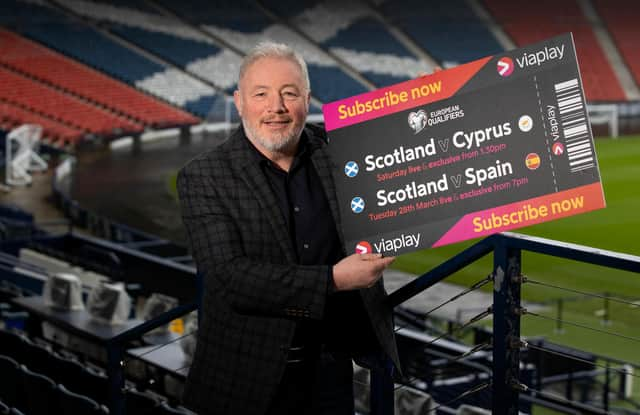 Not since back in 2006 when Smith was helming the national team, assisted by Tommy Burns and McCoist, have Scotland opened up a qualifying campaign with back-to-back wins. Clarke's Scotland outfit will be attempting just that when Cyprus and Spain are hosted in the first assignments of their bid to reach Euro 2024.
"If you have a strong squad of players who enjoy being with each other then, it doesn't guarantee you success, but it helps," said the former Rangers striker and later assistant to Smith at the Ibrox club. "If you don't have a camaraderie in the squad then you have no chance. I think it's vital and we've it in this squad, you can see it. The boys enjoy turning up and going to their training and playing out at Hampden again. That hasn't always been the case. But you need it. That's what Walter did when Tommy and myself were his lieutenants if you like. We had a great set of boys and turned it round to get results against France and the like that."
Smith's presence was crucial to that upswing. And he played such a pivotal role in the adult existence of McCoist, he cannot but continue to mourn the passing of the Scotland management colossus, almost a year-and-a-half on. "There's not actually a day goes by when I don't think about him," McCoist said. "I think about him all the time. He was obviously such a big part of my life. When I'm at games now I think about him. I used to phone him when I was going up the road after games just to talk about what happened. I was at the Sheffield United game on Sunday night and that's when I would give him a call, when I was driving back up the M6. It's still such a sad loss, the same with Tam Burns when I think about us together with the national team. The way I need to look at it is that I have great memories. I was the luckiest man alive to get to work with Walter for so long. He was with Andy Roxburgh at the start when I was playing for the Scottish youth team. He developed and developed and became my boss. And then my mate really, you know."
Ally McCoist was promoting Viaplay's live and exclusive coverage of Scotland v Cyprus and Scotland v Spain. Viaplay is available to stream from viaplay.com or via your TV provider on Sky, Virgin TV and Amazon Prime as an add-on subscription.