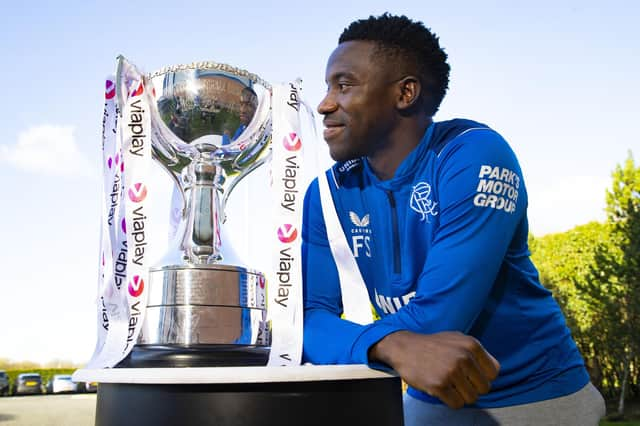 He is a potential match winner in this weekend's League Cup final against Celtic and the Rangers manager must decide whether to start the 25-year-old, which he surely will, or keep him in reserve until later if in need of someone with the ability to make a game-changing impact.
Sakala will be a marked man whatever happens following his reference to the "other mob" earlier this week and his latest contention that the league table is perpetuating a myth.
Contrary to what is normally accepted is the case, he believes the league table does lie and was lying last season as well. The Scottish Premiership is a giant untruth. It's fake news.
In presenting Celtic's current lead over Rangers as nine points, the table is suggesting – and most would agree, proving – that the Parkhead side are currently better than their rivals, and were last season, when they won the league by a distance of four points.
Not so, according to Sakala, who believes that Steven Gerrard's departure last season was the reason Rangers did not retain the title they had won in such an impressive manner in 2020-21. It's one way of viewing things.
Sakala relishes the Old Firm derby and sees these games as an opportunity to express himself on the field as well as off it.
"These are the sort of games I like," he said. "You see when we play against Celtic it is a 50-50 situation – they also want to win. So you have the space. It is different when you play against Ross County. They are just back in the box, the whole squad is defending. You don't know who the striker is!"
"When you play against Celtic it is a different game," he added. "You just want to hurt them! I don't know what is the right word to use. We just want to see our fans happier than their fans.
"We just want to hurt them, to make them angry," he added. "It is more than a game. I don't know what else to call it. But you are always thinking about being better than them. That's the same attitude we are going with on Sunday."
Asked if he truly believed Rangers were better, or whether this was simply a case of pre-match bravado, Sakala confirmed that he was sure of it. "Yes, we are better than them, so much better," said Sakala. "But we are nine points behind! We will keep fighting anyway. I think we are such a better club. A far better club."
A run of 14 wins in 15 games since Beale's arrival does provide some evidence of excellence. Celtic, however, were the one team Rangers were unable to overcome in this sequence, despite a man-of-the-match display from Sakala. Ange Postecoglou's side are also well ahead in the league.
"A year ago we won the league unbeaten so that shows we are better than them," maintained Sakala. "Obviously last season we were four points on top before Gerrard left so the change in the coach contributed a lot for us to be struggling. But if Gerrard was still here I think we would have won the league last season and this season you can see we struggled again. It is the same thing that happened last season. But the way we are playing now, it is exactly the same as we were playing when Gerrard was here. So, nine points behind, but we will keep on fighting to put them under pressure and recover from that."
One way to demonstrate Rangers' current superiority would be triumphing in a one-off, must-be-decided-on-the day contest. A cup final, perhaps.
It's fortunate that one such occasion is due to take place at Hampden Park on Sunday.
"Exactly!" said Sakala. "And that is what we are going for. If we get that trophy it will prove that we are a better team than them. The game that we played at Ibrox the last time we played against them, in the beginning they looked better and then we turned everything around and were much the better team.
"We could have won the game and unfortunately we drew. But on Sunday if we get the trophy everyone will see that we are much better than them."
As he is on the pitch, Sakala is not slow in coming forward. He wears an infectious smile that suggests he takes little very seriously, including those reports that emerged late last year that he had been gunned down during a visit to his Zambia homeland.
He was first made aware of this while he was at home in Glasgow preparing supper. His phone suddenly lit up.
"I received a call from Gavin, the security person at the club, and his breathing was very different," he recalled. "I was like: 'what's going on?!'
"He asked: 'are you Fashion?' and I was like: 'yeah.' He said: 'I just saw something on Twitter saying you were dead!' I was like: 'no, I'm still alive. I'm cooking.' He said: 'okay, we will speak later'.
"Immediately, my manager called me asking if I was okay. I said I was okay and he said: 'I saw something saying you were dead.' I said: 'We will talk later, I'm good.'
"I was very surprised. It was funny, but people always have the time to write things. This is not the first time. I've had a lot of stories in my own country saying 'he's had an accident, he's dead. He and his wife are dead. I don't know if they are wishing us dead.
"I don't know if it was people from Glasgow who wrote it or people from Zambia, because I've had it in my own country before."
Curious and curiouser. Mercifully, it was all tosh. The world's undoubtedly a brighter place with Sakala in it.