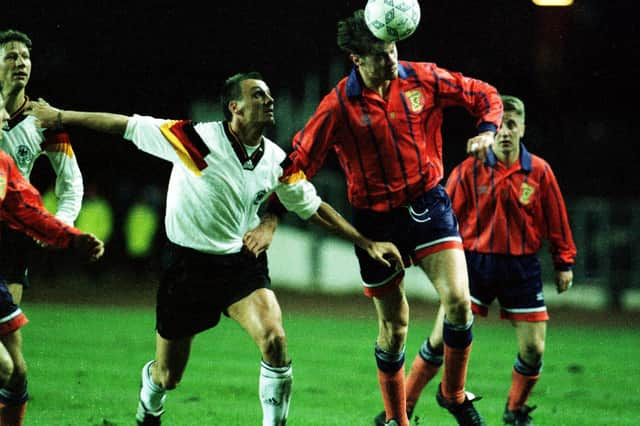 The Scot was convicted of assault following a headbutt on Raith Rovers opponent Jock McStay in April 1994. He was already on probation after an incident in a hotel bar in Anstruther while with Dundee United.
Among the repercussions was Ferguson's belated decision to stop playing international football for Scotland, after the SFA's insistence that he serve a 12-game ban after his release. The player had moved to Everton by this point and the club won an appeal to quash the ban in a landmark judgment in 1995 at the Court of Session in Edinburgh.
Resentment on Ferguson's part did not prevent him playing two further games for Scotland before he sent a letter to the SFA in early 1997 confirming he was unavailable for selection. He had already won seven caps and resisted all further invitations to return.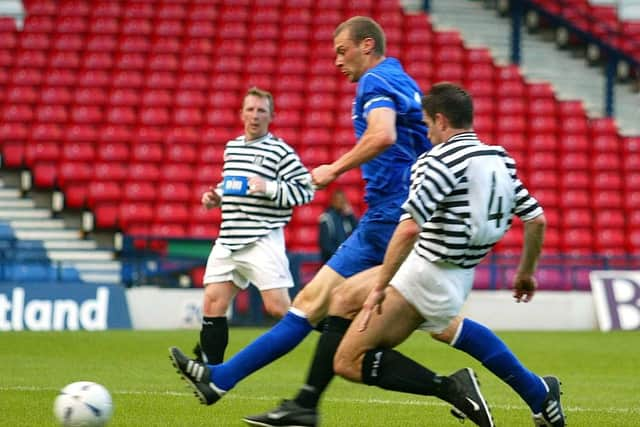 Referee Kenny Clark did not even book Ferguson at the time of the McStay incident. The striker went onto score his first goal for Rangers later in the match. Ironically, he was booked for leaving the pitch while celebrating. Ferguson revisited the incident in latest edition of the Tony Bellew is Angry podcast, released on BBC Sounds.
The Scot, who was appointed Forest Green Rovers manager last month, told the former professional boxer that he wished he was sent off for the headbutt, because "we'd not be talking about it (prison) now".
He added: "I didn't feel I should have been in prison. I felt I should have got community service. It was a nothing incident. I am telling you straight. I never touched the lad (McStay). I basically grazed him. If I had hit him, I'd have hit him. We played on. Both of us played on. I scored in the game!
"I was only 22 when I went to prison," Ferguson, now 51, added. "It was tough on me at the time. And it does test you when you are walking into those halls. You are on your own. And, of course, I played for Rangers. Barlinnie is in the middle of Glasgow. So half the jail is blue and half is green. It's not easy."
On the subject of Scotland, Ferguson revealed he was asked many times to return. "About the biggest regret of my career is not playing (more) for Scotland," he said. "It was my pig-headedness because I thought it was a total injustice what happened to me. Not just the prison, but when I came out of prison the SFA asked me to serve another 12-game ban. I'd been in the jug. I did seven weeks out of the three months. I missed X-amount of games…the SFA asked me to serve another 12-game ban on top of what I had already done."
Ferguson said that he "got the hump". He added: "I should have played 200 times for Scotland. They asked me every year for 14 years. Ally McCoist called me at 10pm one night, 'big man come back. We're playing Italy, you'll play.'"
Ferguson was tempted because Walter Smith was in charge at the time: "But I was pig-headed. I had put a line in the sand, and that was it."