The Englishman requires to take a scalpel to his squad over the next six months. That will make for career-prognosis chats with those concerned for the health of their Rangers roles of the awkward kind. Beale won't shirk from being straight with players in imparting any bad news. James Sands probably has already been the recipient of a desire to be honest. Acquiring central midfielder Nicolas Raskin from Standard Liege could result in ending Sands' loan six months early. The New York City player's natural role is the one the 21-year-old Belgian will perform.
The Ibrox side would now appear to have a glut of performers in that department. As he seeks to lower the age profile of his pool, it would be no real surprise were contract extensions to fail to materialise for 30-plus trio Ryan Jack, Scott Arfield and sidelined-for-the-season Steven Davis. All free agents come the summer. As are Alfredo Morelos and Ryan Kent. The arrival of left-sided Todd Cantwell and a return to full fitness for Ianis Hagi makes their situations appear not quite so critical, the Rangers manager suggested. His no-messing insistence that he has identified a striker target to bring on board in the summer - a player to "take the team to the next level" - strengthens the impression that Morelos' Ibrox days could be numbered. That certainly seems true of Allan McGregor, the turning 41-year-old keeper expected to retire at the end of this campaign. Meanwhile, according to Beale, if the right club with the right manager made a loan offer for Alex Lowry – possibly in the Scottish Premiership – it could serve the prospect to play regularly at a level that would further his development when the 19-year-old's game isn't sufficiently advanced at present to earn that at Ibrox.
"You are trying to get two for every position, three in goal and three up front," said Beale. 'That gives you flexibility over the season. When injuries hit you should still be okay within the ways that you want to play the game. [You have to be honest with players about your intentions] always because otherwise they'll smell it. Players have a way when you go out there. They'll know if you're not. If you want people to be all in, relentless and to give their all, not just on the pitch but in the environment, the most important thing you can give them is honesty.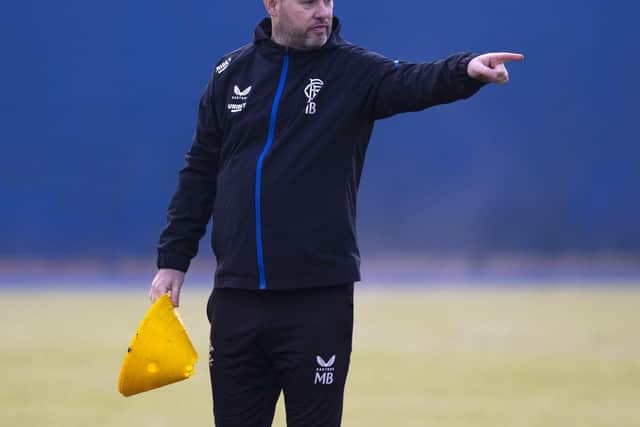 "If you don't fancy them as a player, tell them. If you think they are going to find it difficult to play, tell them. If they are in a pecking order, tell them what the pecking order is. I think players are happy then – or they are happier – in terms of processing. That clarity is important. Everybody sees it from their own situation. You have to see it from the club's. There are some decisions you can make now that could harm Rangers in the longer term. Those decisions might get me an extra win or maybe even a trophy somewhere. Trophies are obviously impressive. The wins are important. But also building a strong Rangers for the future is important.
"I think we're at the stage where we almost want to turn the ages on their heads with one or two transfers. But that doesn't mean those guys have to come in and displace anyone. They've still got to come in and get into a team that's unbeaten in 12 games at this moment in time, if you include the couple before I came back. So the player coming in has to know he's coming into a strong squad as well. He's got to earn the shirt. But at the same time I want to move Rangers forward and put my own stamp on the teams as well."