Alfredo Morelos, Ryan Kent, Steven Davis, Scott Arfield, Allan McGregor, Filip Helander and Ryan Jack are all out of contract in the summer. When Beale was replaced by Giovanni van Bronckhorst the priority was on winning games with contract talks put on the back burner with focus on the post-World Cup fixtures.
The Rangers boss, who admitted the squad is too big, believes the next few months could still shape the future of those players with the aim being delivering "for the fans", first in the Viaplay Cup final later this month, closing the gap to rivals Celtic in the league and winning the Scottish Cup.
"In terms of the players that are out of contract there are a couple of things really," he told RangersTV. "You've changed manager so ideas might have changed. There's the personal form and health that's important and the other is how the season ends.
"The fans are in that part of how the season ends. If players really show up well in the last 14/15 games and we're in one cup final and hopefully in another and if the players play well there the fans will be desperate for them. If between now and the end of the season the form drops off and we have some difficult days then the fans and the club might have to look in a different direction so everything is up in the air so my job is to get us in a healthier position than we found ourselves in November.
"We've done that but everything has to be decided. We're back where we should have been, now we have to go deliver for the fans."
'Biggest hug'
Much of the speculation around the players on expiring deals has been on Ryan Kent and Alfredo Morelos. Beale revealed he loves "both of them in different ways" and confirmed earlier this week that there has been no movement on a new deal for Kent.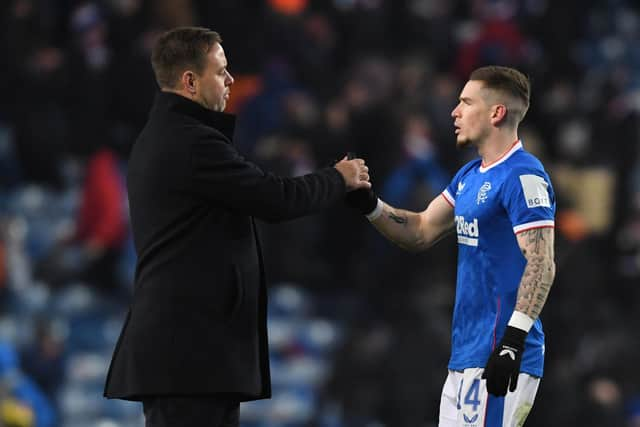 "I love the bones of him and he's at a moment in his career and age where he has an option and a decision to make," Beale said. "We'd very much like him to stay. If Ryan really wants to be here and has the energy for the next three or four years. If there is anything off or he feels he's been here then no problem, he'll get the biggest hug in the world and walk out of the front door.
"It's the same with Alfredo, there's a misconception about him compared to the boy I work with every day. We've always had a really strong relationship through my terrible Spanish but since I've come back he's been fantastic. He's matured a lot. He's our record scorer in Europe, we've won leagues and cups and got to the Europa League Final with him. Whatever decision is made, he needs to walk out the front door. That's what my communication has been with both boys."