Rangers will look to sustain a head of steam before that meeting as they pull out all the stops to prevent Celtic from setting themselves up for a domestic treble.
Celtic claimed the Viaplay Cup at Rangers' expense at the end of February and the Ibrox side have yet to stop Ange Postecoglou's side this term with the Parkhead side enjoying two wins and a draw against their rivals.
Michael Beale's form since taking charge in December is beyond reproach but it is notable that his blemishes have come against Celtic; the draw at Ibrox in the festive fixture will still rankle while the defeat at Hampden drew the most criticism Beale has had in the role with team selection, tactics and mentality all questioned in the aftermath of the loss. The semi-final is a last roll of the dice for Rangers this season with the league title out of sight.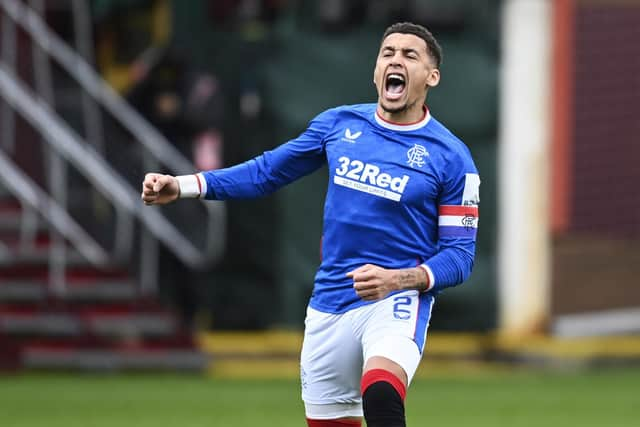 Asked if Celtic will see a different Rangers, Tavernier said: "We have to because we knew the performance in the final wasn't good enough from our point of view. There is way more to give from us. So, yeah, definitely."
By the time that game rolls around at the end of April, Tavernier could be a Rangers centurion. His goals tally currently sits at 98 with his goal against Motherwell on Saturday cancelling out Kevin van Veen's opener. It is a curious fixture of this Rangers side that they repeatedly give teams a goal of a start - this was the eighth time from 19 of Michael Beale's games that they have to come from behind to take points - but if it points to slow starters, Tavernier was keen to adopt a glass-half-full look at the stat.
"It's good to show that resilience," he said. "You need that resilience as a foundation. Not just this season, but in seasons going forward we'll need that resilience and character in the team when we play for a massive club like this if we're to move forward. You can go a goal down but there is loads of belief in the team that if we continue to play the right way we will create our chances."
The full-back, meanwhile, joked that he was quite happy to be kicking back as some of his colleagues head off on international duty.
"You feel a bit for the international lads because when we are going away they have got to go away with the national team," he said. "That is part and parcel. If I got called up for internationals then I would! I enjoy the family time and recharging and looking forward to the next block of games.
"[I] definitely recharge. We will have programmes when we are away. Recharge and spend some family time and set ourselves up for the next run of games."
The fact he didn't hit his hundred at Fir Park won't sour the break although Tavernier did admit that he was irked he didn't score a second free-kick that was better positioned than the one which went in.
"I'm really proud of that record. I've always loved scoring goals since I was young," he said. "The tendency has been to move further and further back the pitch so it's obviously been a bit harder to get those goals. But I enjoy scoring goals - I just wish I'd got a couple more at Fir Park."