The Ibrox manager knows that if his team haven't established a winning position in the Viaplay League Cup semi-final against Aberdeen by the interval - the case in four of his six games unbeaten, five of these ultimately won - he has to work fast to get into them. And the 42-year-old Englishman's famed attention to detail is evidenced in how he sets about that. Though he seems more relaxed about the Hampden encounter than was true of the meeting between the pair up north last month, from which Rangers crazily snatched a 3-2 victory with two goals late into added time.
"There was probably more feeling going to play them at Pittodrie than Hampden," Beale said. "I know it's a semi-final but we can play the team in front of us. We know each other's levels. You have to be sure and confident about the work you are doing with your group, then the players play and at half-time you get another moment where you can help - see something they are not seeing or free someone up. It's important you don't get caught up in it. I am actually much better as a manager than I was as an assistant or first-team coach when I felt myself getting too up for the games. I realised I don't play it, so I get one window at half-time.
"If we broke down half-time, it probably takes 90 seconds to go out and come back in, so three minutes are gone, which gives you 12 minutes. Three or four minutes is checking how are they. So the physios or fitness coaches will check, then it's your unit coaches so Neil [Banfield, assistant] will get around defenders, Harry [Watling, individual coach] will talk set plays, Damon [Matthew, assistant] will get around the midfielders and forwards with any messages we have individually. Then they will come back in and that gives me three or four minutes to be very clear on what I want. Most of the time, it's just reminding them of what we said before and then really focusing on individuals to do certain things.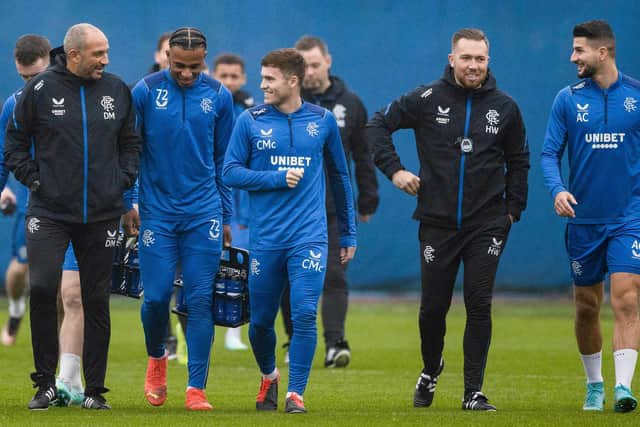 "I enjoy that. For me to help the team, I have to detach a little bit and really watch what is going on, rather than getting caught up with a boy making a mistake in the first minute and then at half-time waiting to tell him, 'you effin' shouldn't have done that in the first minute'. You have to try and detach because that's the only time I can help them. I am no help to them at half-time, then I am no use to them.
"A lot of the subs you make are half planned out. It's whether you believe in your way. If you have two similar players, do you take one out and put another one in who is similar because you believe in the way or do you believe the way today needs to be shaken and do you need to try something different to counteract the other coach. That's the 'chess' of football that I quite like but ultimately the players go and play so what I don't want to do is be going in and throwing tea cups around to arouse players because Glen Kamara doesn't respond to that, but Ryan Jack does. It's a lovely thing.
"It would be fascinating if you were a fly on the wall to see that because that's really where the skill of coaching is. Whenever there's an insight into a dressing-room - we have seen a couple with the French national team or Real Madrid - I love them things and I love it in rugby because in rugby they let you into the changing-room and they see it. That's where you earn your corn because you don't play the game. You earn your corn by assessing what's happened and what we can do to impact it and then thinking. 'what's Jim [Goodwin] going to do to respond, what has he on the bench', the 'what ifs', that's what excites me about football."